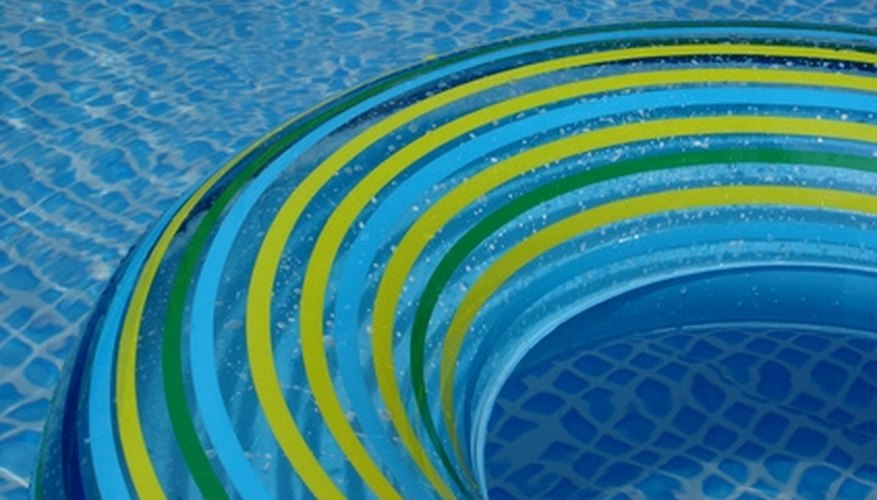 Installing a backyard swimming pool offers homeowners a place to play and relax, but it also brings with it a good deal of work and expense. Some homeowners, in an effort to reduce the amount of chemicals they have to use and store, choose to install a saltwater swimming pool instead of treating the water with chlorine.
Definition
While the name "saltwater swimming pool" conjures up an image of a pool filled with water pumped in directly from the ocean, saltwater swimming pools have nothing to do with seawater. Saltwater swimming pool refers to the method of treating the water; instead of adding chlorine to treat the swimming pool water, saltwater pools make their own chlorine by passing the water through a chlorine generator that kills bacteria and sanitizes the pool.
How Saltwater Pools Work
Saltwater pools are filled with a saltwater solution that runs continuously through a chlorine generator. The chlorine generator has two electrically-charged titanium plates. When the water runs through the charge field, a chemical process produces chlorine and hydrogen, which then flows back into the pool and kills and bacteria and other biological growth in the pool. In time, sunlight reflecting on the pool breaks down the chlorine and the pool filters take care of the remaining microscopic bacteria and biological matter.
Advantages
Saltwater pools have several advantages over traditionally chlorinated pools. The water in saltwater pools tends to be softer, does not leave a residue on the skin like traditional pools and it doesn't have a strong chlorine smell. Swimming in a saltwater pool is less likely to dry out your skin and hair and will not burn or cause redness in your eyes. Saltwater pool maintenance is less expensive and potentially dangerous than traditional pool maintenance as you do not have to purchase and store pool chemicals.
Drawbacks
Saltwater pools do have some drawbacks. The initial cost of installing the pool and filter is generally higher than that of traditional pools, which offsets some of the long-term maintenance savings. Some saltwater pool owners report damage to the filters, pumps and chlorine generator caused by the high salt content in the water. Rainwater can dilute the water significantly, meaning that you need to continuously check the salt levels and add more as necessary. Saltwater pools are not maintenance free and require the same cleaning as a regular pool by removing leaves and other debris, brushing the pool sides and cleaning and emptying the filters and filter baskets.