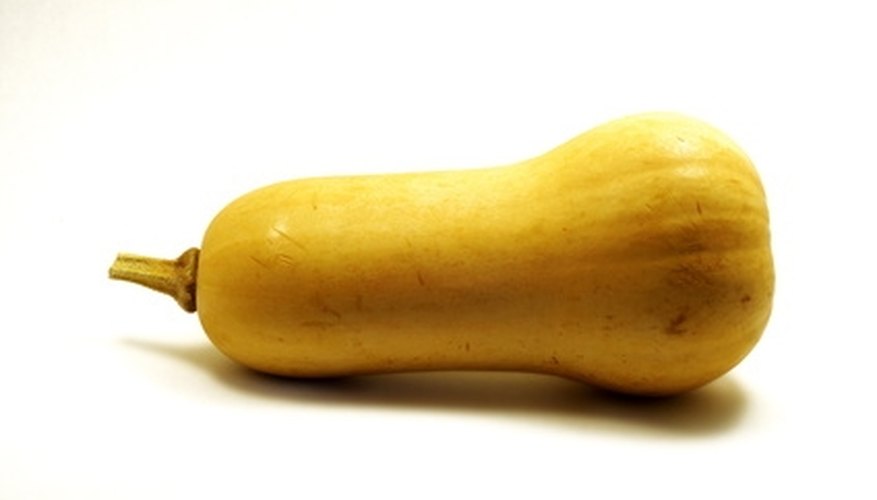 Butternut squash is part of a large group of squashes, and produces large, butter-colored gourds with a vase or bell shapes. These squashes are sweet and nutty, and are useful in both baked and soup dishes, with flesh that holds together well without getting stringy. Winter squashes like butternut always require set planting dates, locations, soil mixtures and growing seasons.
The Facts
Butternut squash, or Cucurbita moschata, is a winter squash and grows along the same guidelines as other fall-harvested squashes like pumpkins and spaghetti squash. These squashes grow through summer for fall and winter harvest, and differ from summer squash only in their maturity dates; they are mature and ripe when they harden, and aren't good as soft vegetables.
Spring Planting
As summer-growing plants, butternut squash seeds or seedlings need a warm-weather start. Put butternut seedlings or seeds in the spring garden only after the last frost lifts. In cold areas of the country, wait until night time temperatures rise over 60 degrees Fahrenheit, to protect the new plants from cold temperatures and late frosts.
Mid-summer Planting
Butternut squash plants require long growing seasons, with maturity dates as late as 80 to 100 days. Gardeners who live in warm growing zones, and enjoy long summers or mild fall seasons, can plant butternut squash again in mid-summer for a second harvest. Get mid-summer butternut squash seedlings into the ground 3 1/2 months before the first frost to give them time to mature, or choose quick cultivars and plant accordingly.
Growing Needs
Like all vegetable plants, butternut squash requires the right mix of conditions and amendments if it's to grow successfully. Mix organic compost into the garden soil before planting to provide a rich, crumbly foundation, and plant the squash only where it gets full sunshine all day. Give each squash seedling the space it requires, depending on whether you're growing a large vining or small bush cultivar.