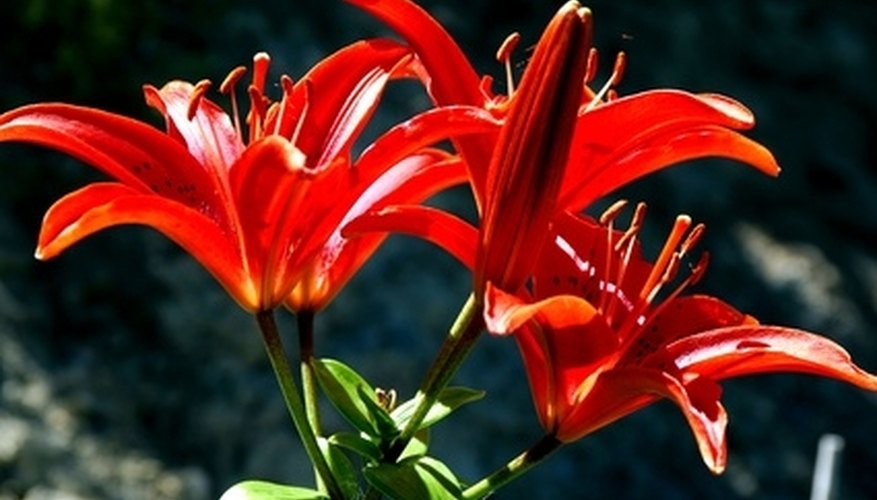 Hybrid lilies are classified into two major types -- either Asiatic lilies or Oriental lilies. Although the characteristics of the two types vary somewhat, both will provide bright, vigorous blooms. Care of potted hybrid lilies isn't complicated, but keeping your potted lilies healthy and hearty involves adhering to a few simple but important requirements.
Characteristics
Oriental lilies, which bloom in late summer, are valued for their huge, fragrant blooms that can measure up to 8 inches in diameter. Oriental blooms are available in white, purple, red or pink. The blooms of the Asiatic lily, which flowers in late spring and early summer, aren't fragrant and with a diameter of 3 to 4 inches, are a bit smaller than the Oriental lily. Asiatic lilies are available in bright shades of orange, rose, yellow, gold, white and pink. Both have lush green, strappy foliage.
Moisture
Hybrid lilies should be watered when the top 2 inches of potting soil feels slightly dry to the touch. The soil is watered thoroughly until water drains through the bottom of the pot. Although the potting soil should never become completely dry, it also shouldn't be soggy. The container should never be allowed to stand in water, as too much moisture will rot the hybrid lily bulbs.
Sunlight and Temperature
Place them in bright, indirect sunlight or bright light filtered through a sheer curtain as direct sunlight will fade the bright color of the flowers. Although the hybrid lily can be displayed on a coffee table or shelf for a short period of time, it should soon be returned to indirect sunlight. Temperatures should be no higher than 80 degrees Fahrenheit. Nighttime temperatures shouldn't drop below 60.
Insects
Potted hybrid lilies are relatively pest-resistant, but are occasionally bothered by aphids or fungus gnats. Aphids are tiny green bugs that suck the juice from the leaves and are most commonly found on the underside and at the joints of the leaves. Aphids are usually controlled with a spritz of insecticidal soap. Fungus gnats can become a problem in moist potting soil, as the larvae of the gnats hatch in the top 2 to 3 inches of soil. Allowing the soil to dry as much as possible is the best way to control fungal gnats.
Disease
Potted hybrid lilies can fall prey to botrytis, a fungal disease evidenced by brown spots on dead leaves, which soon spread to living foliage if the fungus isn't contained. Root rot is a fungus that causes the foliage and stems to turn dark green and mushy, soon traveling to the roots. Once root rot starts, it is hard to control and the plant may need to be discarded. Proper watering and plenty of air circulation around the plants will usually prevent botrytis and root rot.