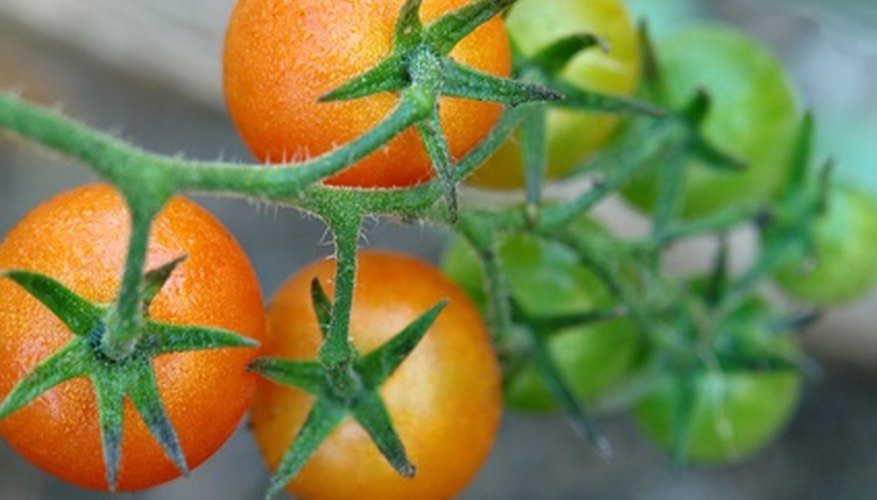 The climate in Texas can pose a problem to home gardeners, as hot summer temperatures arrive in late spring and linger until autumn. Tomato plants suffer in hot conditions and begin to drop their blossoms without developing fruit when daytime temperatures reach the 90s and nighttime temperatures reach the mid-70s. Texas gardeners have a narrow window for growing tomatoes between the last frost in February and the arrival of scorching temperatures in May. Certain varieties of tomatoes make it more possible for Texas gardeners to grow healthy fruit-bearing tomato plants at home.
VFN
Choose varieties that end with the letters VFN. These varieties of tomatoes are bred to be resistant to verticillium, fusarium (soilborne bacterial diseases) and nematodes, which all commonly attack tomato plants in Texas. If you start with a variety that naturally fends off these attackers, your plant will grow faster than a sickly plant that is trying to bear fruit and fight off disease.
Short Growth Phase
Look on seed packets, and choose tomato varieties that have a smaller number of days until harvest. Some varieties of tomatoes take over 100 days to grow from seedling to fruit-bearing and Texas gardeners don't have the luxury of waiting that long before scorching temperatures arrive. Choose hybrids that mature and bear tomatoes in approximately two months to ensure that your tomato crop will beat the summer temperatures.
Tomato 444
Texas A&M University developed and tested Tomato 444 and found it to be an exceptional plant for the hot and dry conditions of Texas. Dr. Jerry Parsons, horticulture specialist with Texas Cooperative Extension in San Antonio, says that "The fruit is large and the quality is excellent. To many people, Tomato 444 tastes better than the ever-popular Celebrity tomato. Tomato 444 definitely produces more fruit than Celebrity." Parsons also states that Tomato 444 grows well in containers, giving the gardener the ability to move the plant into or out of the sun as needed.
Small Varieties
Large tomatoes like the Brandywine take several months to develop because a mature Brandywine tomato can easily reach a pound in weight. Smaller varieties of tomatoes develop quickly and give the Texas gardener time to harvest before the heat claims the tomato plant. David Rodriguez of Texas A&M University recommends cherry tomatoes for Texas gardens.