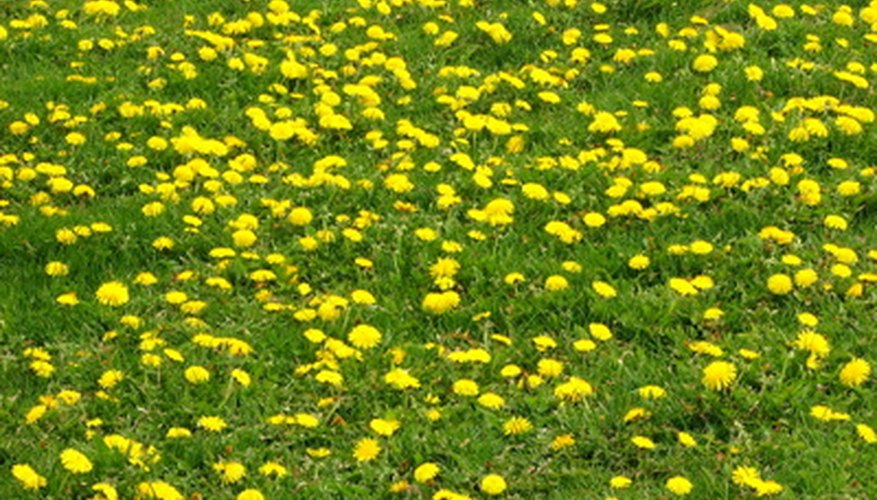 Plants sprout leaves to gather the light they need for energy. The larger the surface area on these leaves, the more sunlight the plant obtains. A simple experiment and some fast-growing dandelions prove this fact. Dandelions are classified as weeds because they spread and grow quickly, so you can track changes in their leaves in a short time.
Leaf Size
According to the Science and Plants for School website, plants grown in the shade showed that the less light the flowers received, the larger their leaves grew. Since the dandelions in the shade wouldn't have much access to light, they adapt to their surroundings. Larger leaves receive more light. To harvest the available light, dandelions sprout much larger leaves than those grown in direct sunlight. Dandelions grown in sunlight have smaller leaves. Absorbing too much sunlight is just as damaging to the plants as not enough sunlight.
Photosynthesis
Dandelions use sunlight for energy in a process called photosynthesis. Dandelions absorb nutrients and moisture from the soil through their roots. Sunlight absorbed by the leaves synthesizes these nutrients into usable starches and proteins the plant uses as food.
Dandelion Gardens
Dandelions work well for sunlight- and soil-testing experiments because they grow so quickly. These yellow flowers sprout easily from their windblown seeds. They grow several feet high under the right conditions. Although they can be seen as invasive because they reproduce so easily, some homeowners welcome them as a natural, low-maintenance splash of color.
Edible Dandelions
Dandelion leaves grow from the plant's base and make a tasty addition to salads. Juice the leaves and add it to soups. Choose only pesticide-free leaves from your own yard and wash them well before eating. Pick from dandelions in the shade, as leaves grown in the sun are smaller and bitterer, according to Plants for a Future. The dry soil in full sun produce bitter leaves. Dry and steep the roots as a caffeine-free alternative to coffee. Grind the dried roots and put them in your coffee maker just as you would ground coffee.