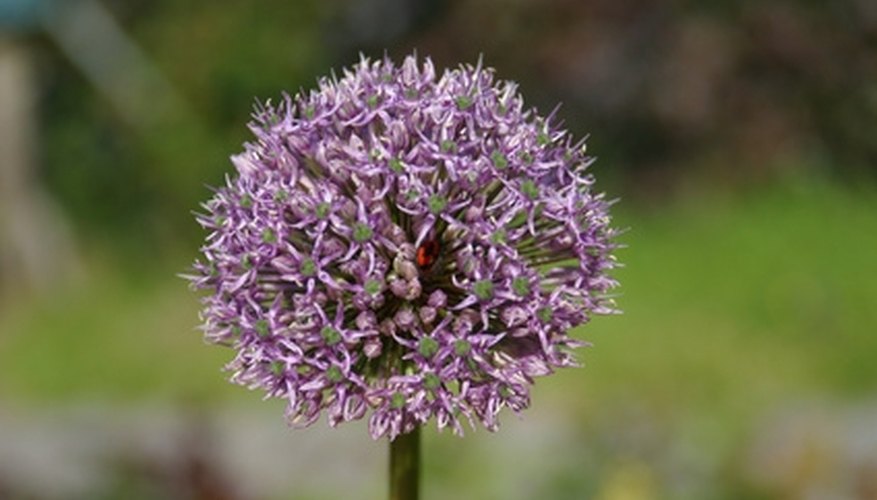 After waiting all winter for a garden full of color, you'll want to select flowering plants that offer the greatest display of blossoms for the longest possible time. You can balance out any short-season favorites with a few species that bloom late, bloom twice or even bloom continuously, all summer long. While you have hundreds of possible choices, start by narrowing your preferences down to the type of flower you'd prefer and inquire at a local nursery for species appropriate to your climate.
Flowering Ground Covers
For a carpet of color that lasts all summer long, consider planting a low-growing ground cover plants with hardy blooms. Pinks (Dianthus spp.) offer delicate pink blossoms over a broad spread of lush, blue-green foliage. You can extend the blooms from late spring through the summer by plucking off old blooms, triggering repeat flowering. Catmint (Nepeta spp.) produces blue and gray blossoms early in the summer, and you can keep the flowers coming until well after midsummer by snipping off faded blooms. The Mexican evening primrose (Oenothera berlandieri) offers summer-long blossoms without any extra effort, with pink or white flowers, and red-tipped leaves.
Blossoming Bulbs
While bulbs are typically categorized as either spring-flowering or fall-flowering, in some cases you can use flowering bulbs to extend your flower beds' color throughout the summer months. For example, depending on the species and cultivar, alliums may bloom from early spring all the way until fall. Once you get a bed of alliums established, they'll come back year after year; just divide them every few years, whenever you notice that the flower production drops. Alliums make an especially good selection if you have local wildlife that enjoys eating your plantings; the onion flavor will discourage deer and other animals. The rain lily is another long-lasting bulb, flowering from midsummer all the way through autumn.
Late Bloomers
If your main concern is maintaining color through the end of summer, intersperse some later blooming flowers into your garden. Coneflowers, commonly known as black-eyed Susans, remain colorful through late summer and even into fall, as their distinctive shape remains intact and their coloring turns darker. Bee balm endures from mid to late summer and into autumn, its delicate petals eventually dropping to leave textured seed heads of considerable visual interest. Chrysanthemums last well into autumn and are hardy in a range of climates, producing red, orange and yellow blossoms.
Unusual Cultivars
In some cases, you can get a longer flowering season just by picking the right cultivar of a particular species. Ask at your local nursery about the varieties that are well-adapted to local conditions and have the longest flowering period. For example, the Mount Hampden Mixture cultivar of phlox is designed for a long flowering period of semidouble and double blooms. If you like dianthus, the Bouquet Purple cultivar produces lacy, lavender flowers throughout the summer months.