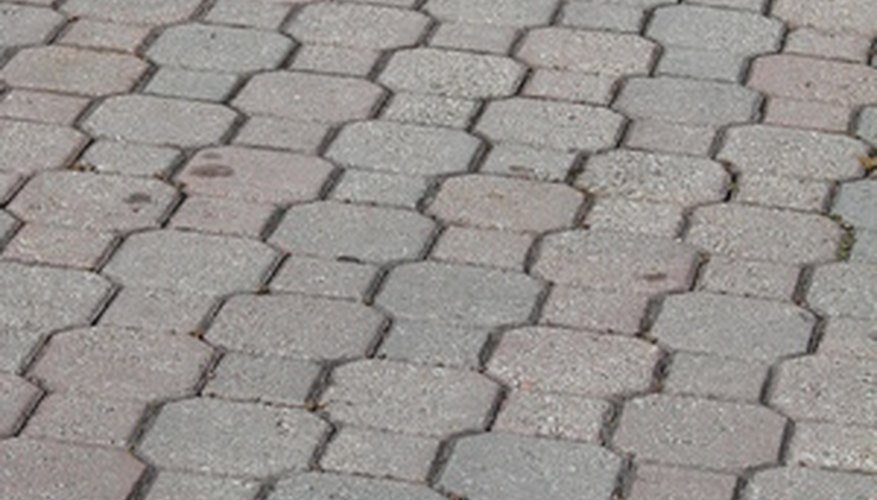 Concrete provides a structurally sound, flat slab for a patio, driveway, sidewalk or basement floor. Concrete codes vary from one community to the next, and from residential to commercial applications, but there are some standards you can use to plan your job. Pouring concrete is backbreaking work, and wet concrete can begin to set up within minutes on a hot, dry day. It's imperative to always have someone present who can direct the pour from start to finish.
Thickness
The average minimum thickness for a concrete slab in residential use is 4 inches. This includes patios, walkways, utility pads and driveways for light to medium vehicles. If you have heavy vehicles, such as large diesel pickups, you may need a thicker slab. For narrow garden footpaths, you can get by with as little as 3 inches. Minimum thickness varies by locality, so check into building codes before you pour.
Reinforcement
Adding steel to the wet concrete increases its tensile strength. Reinforcement is available in the form of steel rebar and steel mesh. If you're pouring a slab for a basement floor, an inspector will probably ask to check your reinforcement before he clears you to pour. Standard slab reinforcement requires steel rebar installed crosswise, intersecting at 2-foot intervals. In addition, rebar chairs should be used beneath the steel reinforcement to raise the level of the steel to the middle of the slab.
Slump
Concrete slump refers to the ratio of water to cement in the concrete mix. When the concrete truck leaves the mixing company, the concrete is "dry," meaning that it contains a minimum amount of water. Unfortunately, dry concrete sets up too quickly for most pours, especially if the temperature is warm and the humidity is low. The contractor performs a slump test with a steel cone form and a tamping bar to determine an approximate moisture ratio.
When pouring your own small slab, you may ask the concrete truck driver to dispense a small amount of concrete mix. If the mix is crumbly, you can request that the driver add more water to the mix. As you add water, however, you lose slab integrity, so mix in only as much as you need to manipulate the concrete.
Grade
Concrete slabs may look level but they aren't. If water pools on the slab, it could freeze and crack the slab. Before pouring the slab, ensure that it will slope away from buildings at the rate of 1/4 inch every 4 feet. For instance, if your slab is 16 feet square, one side will be a full inch lower than the other side to allow for adequate drainage.
Fill and Compaction
Before you can pour your slab, you must ensure that it will rest on a sturdy foundation. Regular soil expands and contracts with moisture and temperature fluctuations, so you must fill the bottom of the forms with either sand or small rocks, which are less likely to shift. Local code determines the depth of the fill, but a standard 4-inch slab may require 2 or more inches of compacted sand.
Surface Traction
If you're pouring a sidewalk, local code may require a non-slip surface. You may achieve this by pulling a broom across the wet concrete, just before it sets. "Brooming" lines should run perpendicular to the traffic flow on the walk. When the surface is wet, the broom lines provide texture and reduce accidental falls.
Control Joints
Eventually, most concrete slabs will crack, at least minimally, because the ground in many areas moves and shifts. To control the look and integrity of the slab, control joints are pressed or cut into the concrete. In sidewalks, the control joints usually run a few feet apart and cross the entire walk from side to side. In a patio or driveway, you may cut control joints in squares. Stamped concrete does not require control joints.