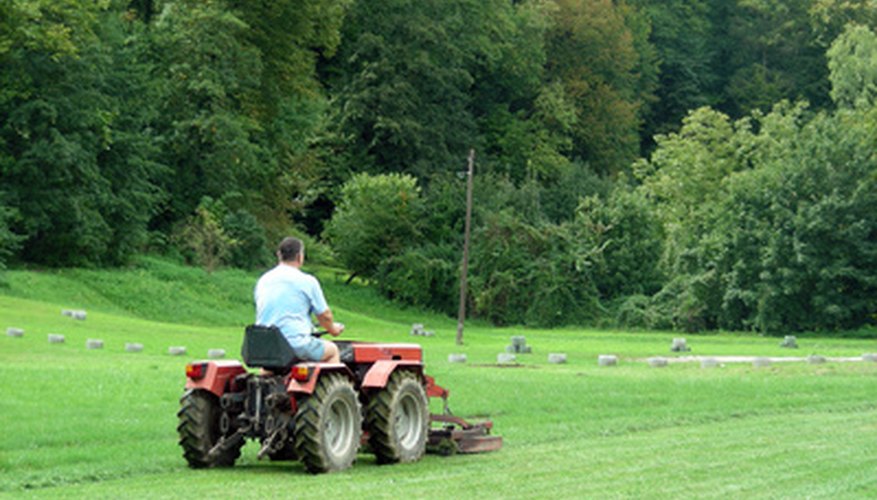 Craftsman lawn tractors have the ability to add convenience to any workload, but only if the parts associated with the tractor are in working order. For those looking to either replace parts or purchase attachment parts, numerous online resources exist. However, you may have to register with the Craftsman website first to place an order. Always conduct independent research prior to purchasing any Craftsman lawn tractor to ensure you're getting the best deal.
The Basics
Craftsman lawn tractors would be useless without an engine to power them. Engine type depends on the type of lawn tractor purchased. For example, the Craftsman YT 3000 lawn tractor features a 540 cc Briggs and Stratton engine capable of producing 21 horsepower. The engine is cooled with a cooling fan. The cylinder is set in cast iron. A Craftsman lawn tractor would also be useless if it didn't cut grass. The YT 3000 features a 42-inch precision cut mowing system. The cutting height can be adjusted with a lever. Six total cutting positions are available, allowing the tractor to trim between 1 1/2 and 4 inches of grass. The tractor also has two blades.
Sweeper
One of the many Craftsman tractor attachments you can purchase online is the 42-inch high speed sweeper. Those who purchase this item online at Craftsman.com will pay only $299.99, a savings of $70 compared to buying it elsewhere as of 2011. The advantage of a high-speed sweeper is that it allows the tractor to sweep up grass clippings, leaves, lawn debris and more. With a universal fit attachment, the high-speed sweeper can attach to any model of Craftsman tractor.
Added Protection
For those looking to add extra protection to their Craftsman lawn tractor, purchasing a dual bar tractor bumper is the way to go. According to the website Craftsman.com, the dual bar tractor bumper is easy to install. This one piece bumper has the ability to fit all Craftsman Yardman and Husqvarna brand lawn tractors. The main purpose of the dual bar tractor bumper is to protect the tractor hood, front grill and headlights from damage. This protection can save the consumer money in the long run, eliminating the need to buy replacement parts.
Easy Cruising and Add-Ons
All Craftsman lawn tractors must have the ability to move, and many come standard with four adjustable gauge wheels. The size of the wheels vary depending on the model of the Craftsman lawn tractor. Some models also feature cruise control for added convenience. Other accessories can be added on to specific models, including a mulch kit and a three-bin bagger. A cup holder comes standard for those who like to enjoy a beverage while they ride.
Resources