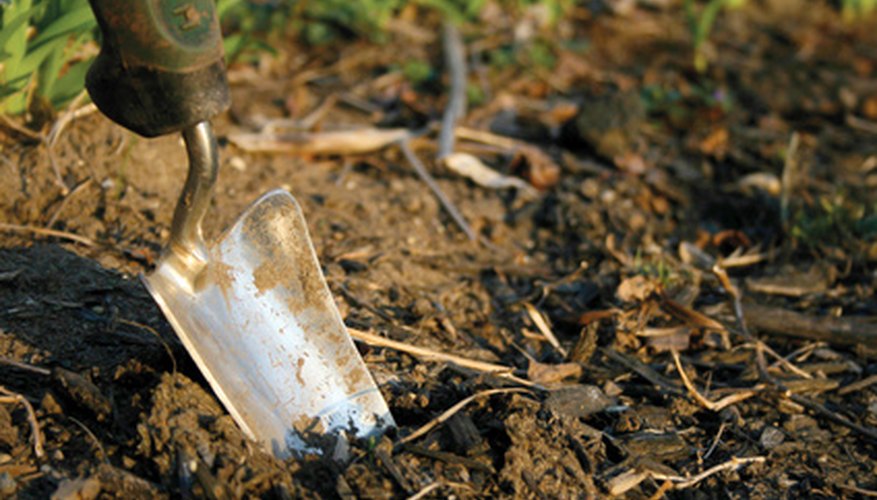 Mulches are materials or plants that form a protective layer over the underlying soil and improve water retention, minimize erosion and impart nutrients. Some mulches are considered more environmentally safe than others. Mulches can be either organic or inorganic. Cedar chips are one variety of garden mulch. Consider carefully your needs before applying mulch, as some may be toxic to plants or animals.
Mulch Uses
Mulch serves multiple purposes in the landscape and garden including retaining moisture and heat, preventing erosion and controlling weeds. In the warmer months mulch will help keep roots cool and more receptive to hydration. Mulch also protects your plants from lawn and garden equipment by creating a border to keep lawn mowers or string trimmers at bay.
Inorganic Options
Inorganic mulches are typically made up of stone or plastics. Crushed stone or gravel is the most commonly used inorganic mulch type. Crushed stone is considered a permanent mulch as it will quickly incorporate itself into the soil, becoming nearly impossible to remove. Stone mulches are generally non-toxic, though products made with limestone can prove lethal to some plants. Limestone reduces the acid in the soil, which can be detrimental to acid-loving plants such as rhododendrons. Plastic mulches do not generally leach significantly into the soil, but in some cases these products may be toxic to animals if consumed.
Organic Options
Any mulch made from plant material is considered organic. Cedar chips as well as other wood chips, sawdust, pine needles and bark mulches are all organic products. Lawn clippings, leaves and newspaper are other organic materials that can be reused as garden mulch. While these mulches are organic, they are not necessarily non-toxic. Mulches must be composted properly to prevent the formation of organic acids during decomposition. These "toxic" acids in mulches can harm or potentially kill your plants. Ask your supplier to ensure you are using a properly aged product.
Mulch Application
Spread mulch once the ground has warmed after any winter chills. For winter coverage, apply mulch before the ground has frozen. Take care to remove any existing weeds before applying mulch. Around trees and shrubs, take care not to apply mulch directly against the trunk and keep the depth between 2 and 3 inches. Use the same general rule for flower beds: Lay a bed that's approximately 3 inches deep and keep the mulch layer an inch away from the flower stems. Lay an even layer of mulch for optimal performance.