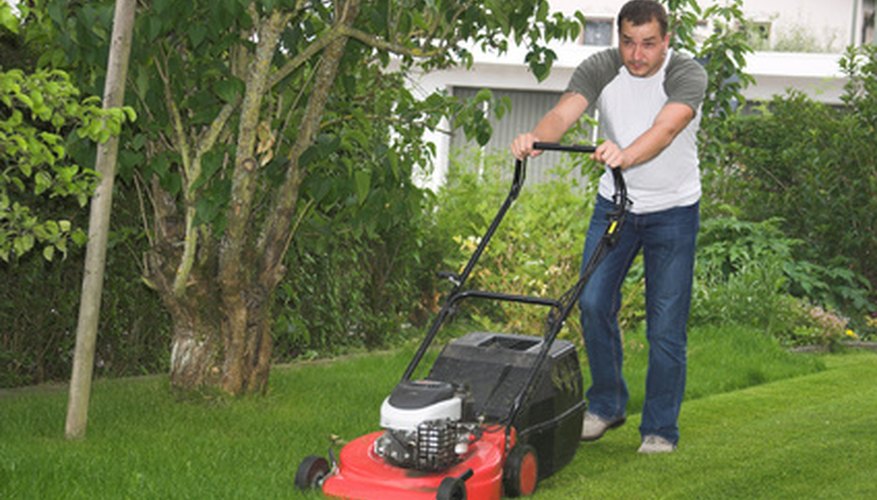 Choosing the right lawn mower for your yard all depends on the size and condition of the yard itself. Those who own smaller flat yards would not require a large riding mower, and those with massive yards would not benefit from a small push mower. Of course, choosing the right mower is always a matter of personal choice; however, some have been proven to operate better on steep terrain. Always use common sense and independent research before purchasing any style of mower.
Mr. Roboto
According to the website Lawnmowerguides.com, robotic or remote control lawn mowers are the best for steep hills. Riding mowers can place the operator in danger on steep hills, especially if the mower tips over. A variety of robotic and remote-driven lawn mowers are on the market, including the Robot 22T, which has a 22-inch cutting deck and features either a Kawasaki or Briggs engine. The top speed of this mower is 8 mph.
Self-propelled Vs. Push
The website Allaboutlawns.com claims that self-propelled lawn mowers are the most ideal for those who own larger lawns or lawns with hilly terrain. If possible, lawn owners should acquire a self-propelled lawn mower with adjustable speeds, which will allow you to program the speed of the mower with your own personal walking speed. Self-propelled mowers can range in price, but most are priced between $500 and $900 as of January 2011. Push mowers are ideal for smaller yards and flat terrain. However, if you have enough strength, you can use a push mower on a steeper hill. These mowers are much cheaper than self-propelled mowers.
Talking About Toro
Consumer Search compared eight cordless electric mowers and 52 mowers altogether, and ranked the Toro e-Cycler 20360 the best of its class as of 2010. The maximum cutting height of this mower is 4 inches while the minimum cutting height is 1 inch. The estimated starting price as of 2010 for this mower is $400, and consumers will receive a two-year warranty. Electric mowers need to be manually pushed, so they may not be ideal for really steep hills. However, the Toro Company makes a wide variety of lawn mower types.
Cooking With Gas
The Lawn-Boy 10645 was ranked the best manual gas push mower as of 2010 by Consumer Search. With an estimated starting price of $270, the Lawn-Boy is ideal for those on a budget who don't mind a little manual labor while mowing a hill. For the environmentally conscience, the Lawn-Boy 10645 has been California Air Resource Board (CARB) certified. Mowers that are CARB certified meet the strict emission standards of California. The maximum cutting height of this mower is 4 inches, and the minimum cutting height is 1 inch. The overall weight of the machine is 66 lbs., making it slightly difficult, but not impossible, to push up steep terrain.