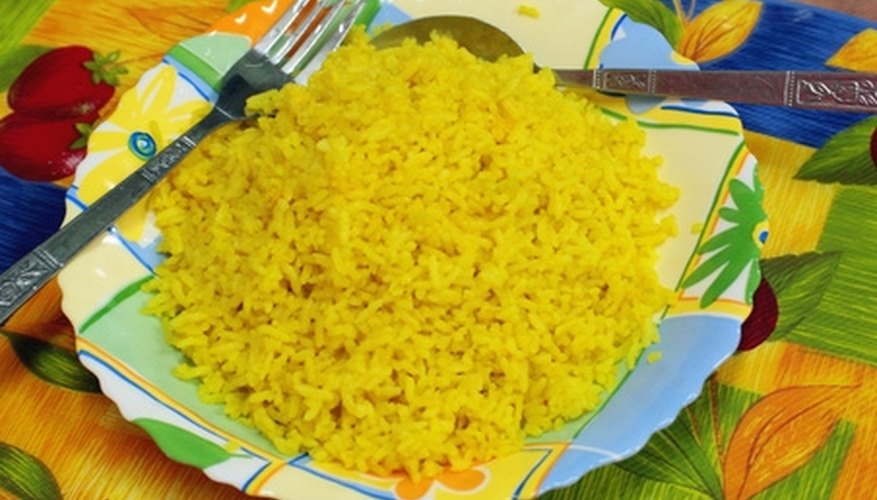 Safflower, Carthamus tinctorius L., is an herbaceous annual that resembles a thistle and has spines on the leaves. The plants can grow 12 to 60 inches in height and have globular flower heads that are yellow, orange or red in color. Each branch on the safflower plant can have up to five flowers on it, each containing up to 20 seeds.
History
Li Dajue and Hans-Henning Mündel report that chemical analysis of ancient Egyptian textile revealed that safflower was used by the civilization as a dye. Garlands of safflower florets and packets of safflowers adorned the tomb of mummies, such as the tomb of Tutankhamen. The ancient Indian, Middle Eastern, European and African cultures often used this plant to flavor foods, color foods and textiles and as a medicinal herb.
Varieties
In addition to the color yellow, orange and red color varieties of the safflower, the Minnesota and Wisconsin Extension Service states that there are two main types of safflower varieties in terms of oil. One variety contains oleic acid, which has high concentrations of monounsaturated fatty acids. The other contains linoleic acids, which are high in polyunsaturated fatty acids. According to Healthline, safflower oil that contains oleic acid has less saturated fats and higher monounsaturated fats than olive oil.
Ideal Growing Conditions
The safflower has a strong taproot and is able to survive dry climates. However, the plant does not fare so well in frosty conditions. The best time of year to plant safflower seeds is in late April or early May, according to the Minnesota and Wisconsin Extension Service. The soil temperature should exceed 40 degrees F and the annual precipitation for the area should exceed 15 inches. Ideally, temperatures should not fall below 20 degrees F, and there ought to be no more than 120 frost-free days annually.
Uses
Safflower was often used as an agent to color and flavor foods before the invention of cheaper yellow and red dyes. It is still used in cooking today. The cultivation of safflower today is for its seeds, which produce a form of vegetable oil that is colorless, odorless and has nutritional qualities similar to sunflower oil. Consumers can find safflower oil used in makeup products, nutritional supplements, salad dressings and margarine.
Safflower was used for medicinal purposes in ancient civilizations, but pharmaceutical companies reported in 2007 that they were able to genetically modify the plant to create insulin. In 2010, clinical trials are still underway to create a form of insulin that diabetes patients can use safely. Healthline reports that safflower oil supplements can benefit those who have fatty acid deficiencies and high blood pressure.