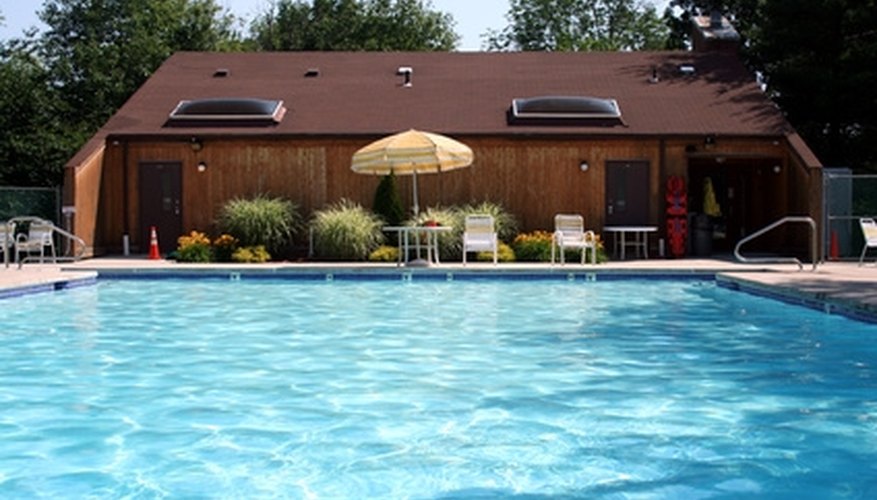 Pool heaters usually use natural gas and propane as fuels though some are powered by electricity. These internal combustion engines can become hazardous when worked on even by a qualified professional. Homeowners should not attempt most repairs, especially if the heater won't start and the homeowner can hear a clicking or sparking noise in the heater. Most heaters eventually break down, especially heaters that are nearby water.
Easy Solutions
Sometimes easily resolved problems can cause the pool heater not to work. For example, the pool heater system switch might be turned off, or the thermostat is not up to temperature.
Pilot Light Issues
The pilot might not light, which can indicate that the furnace has a low gas pressure or poor airflow. Also, the gas might turn off, or the tank might have insufficient fuel.
Filter Cleaning
The heater filter should be cleaned regularly. Sometimes a clogged filter can cause the pool heater not to function. The filter should release a pressure of at least 16 psi.
Bypass
Homeowners must properly adjust the bypass, which is a valve located at the front of the heater that allows the excess water to immediately pump out of the heater without being heated. When heaters receive too much water, they can corrode and begin to malfunction. One common problem resulting from a poorly adjusted bypass is the high limit switch, which does not reset itself when tripped if the bypass fails to prevent excessive water from damaging the high limit switch.
Gas Valve
The gas valve must be properly adjusted for the pool heater to function properly. Ensure the gas valve is in the "On" position and that the gas supply valve is open. Inspect all plumbing and filter valves as well.
Fuses
Electric pool heaters that won't work might have a blown fuse or a damaged wire. The technician will need to use a voltage meter to determine which wires aren't carrying an electrical signal, and the technician can then replace broken parts when necessary.
Water Corrosion
Water inevitably corrodes most devices, even if these devices have special coatings designed to resist water penetration. Homeowners will eventually have to replace some of the parts in the heater, and the water will eventually destroy the heater, though this process usually takes at least 20 years.
Pressure Switch
With gas powered heaters, the pressure switch plays a role in igniting the heater. The technician can test the pressure switch to see if the switch is broken by jumping out the switch with jumper cables. If the heater fires, the pressure switch might be broken.