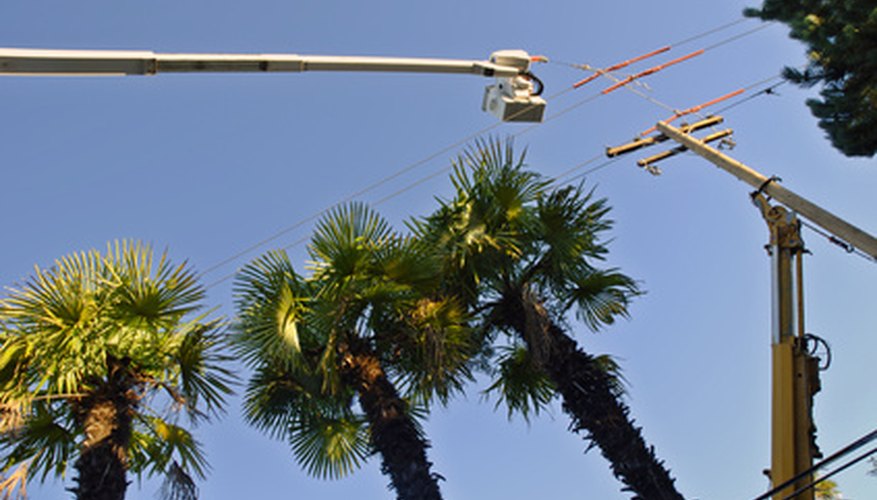 Trees and power lines often prove to be a bad combination. A number of safety concerns exist when a tree grows too tall and becomes entangled in power lines. That isn't to say that trees can never be planted near power lines; several tree species manage well beneath power lines. However, there are certain trees that should not be planted near high-voltage lines. If your trees pose a risk, your electric company likely will handle the pruning or removal of the problem trees for your and your neighbors' safety.
Hazards Created
Fires are one of the biggest problems when trees are exposed to power lines. Tree branches rub against the power lines and become ignited due to the high voltage. In many cases, the trees don't even necessarily have to touch the power lines in order to pose a threat. The Western Area Power Administration notes that because electricity can arc, any nearby trees could prove dangerous. A fire could start or, in some cases, the current carried by the tree could hurt or kill someone standing nearby.
When trees hit the power lines, fires aren't the only problem they create. According to the California Department of Forestry and Fire Protection, trees cause one of the largest amount of power outages in the state. In smaller towns where an entire city relies on one power source, this could be just as dangerous as an electrical fire. Aside from dangers posed by power outages, they cost consumers and businesses money.
Trees to Avoid
Electric companies often recommend not planting trees that reach more than 25 feet tall at maturity beneath power lines. For added safety, the California Department of Forestry and Fire Protection recommends not planting any flammable vegetation within a 100 foot radius of your home, especially when close to power lines. With that height stipulation, any larger tree species should be avoided in landscapes with power lines nearby. For instance, certain oak tree species reach up to 100 feet tall, making them a bad idea for areas near power lines. Other tall trees include elms, spruces and pines.
Safe Trees for Power Lines
With a 25-foot limit for trees, the key to planting around power lines lies with using small trees or tall shrubs. Several species of maple, like the Japanese maple, reach no higher than 25 feet at full height. Flowering dogwoods max out at 25 feet tall, as well, as do crape myrtles and flowering crabapples. For even less of a risk, consider planting holly trees, such as the Foster holly, which reaches 15 feet tall. Since these trees are so short, the chance of an electrical charge reaching them lessens and makes the area safer.
Tree Inspection and Maintenance
Because so many problems arise from trees being near power lines, the companies in charge of the lines often inspect the area for tree problems. If a tree is too close to the power line, electric companies may prune the tree or cut it down completely. Home owners are advised, however, not to perform these pruning or cutting activities themselves. Some states, such as Texas, prohibit homeowners from removing trees too close to power lines. Instead, trained professionals hired by electric companies come to assess the trees and remove or trim them. In many cases, this service costs nothing to the homeowner.