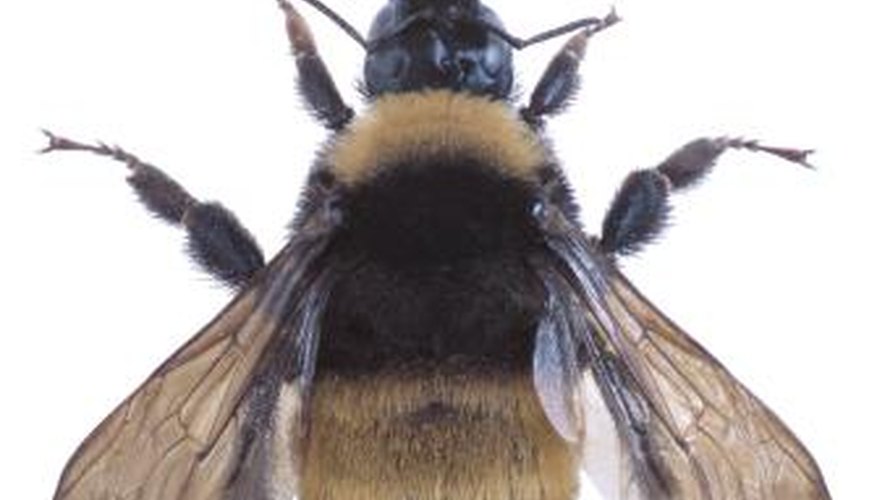 Bees are natural helpers in the garden, gathering nectar and releasing pollen to assist a variety of plants. Tomato plants have both male and female reproductive organs that are close together, allowing them to self-pollinate. However, bumblebees aid in the process to ensure a healthy, bountiful tomato crop. Oddly enough, bumblebees are the only variety of bee that can be of assistance in this way to tomato plants.
The Buzz About Bumblebees
Bumblebees help tomato plants produce perfect fruit by shaking the part of the flower that contains pollen that would otherwise remain in the flower. The pollen then fertilizes the tomato plant, resulting in large, round fruit. Other types of bees are unable to perform this special kind of pollination, called "buzz pollination," making bumblebees the insect of choice if you're working to produce beautiful tomatoes. Commercial greenhouses often use bumblebees to pollinate their tomato plants.
Home Sweet Home
Provide a convenient place for bees to nest near your tomato plants. The best garden helpers prefer to nest in cavities and nooks close to their food source. You can attract bumblebees and other native bee species with a bundle of bamboo or twigs tied to the base of nearby trees. These bees do not fly over long distances, which means that they prefer to nest close to their food source.
Appealing to the Senses
Appeal to the bees' senses of sight and smell. Bees tend to be attracted to flowers that are blue, purple, white or yellow. At night, they rely more on their sense of smell. Some of the bumblebee's favorites include annual sunflowers (Helianthus annuus), purple coneflower (Echinacea purpurea), hardy in U.S. Department of Agriculture plant hardiness zones 3 through 10 and wild lilac (Ceanothus leucodermis), hardy in USDA zones 8 through 10. Plant your flowers in clumps 2 to 3 feet wide for maximum impact. Choose local plants when possible. Bees are more likely to visit familiar plants over more exotic varieties. Plant several different flower types in the same area to keep your garden guests interested.
Addition by Subtraction
While you're adding nesting sites and flowers to attract bees to your tomatoes, keep in mind that you may need to omit things to keep bees around. Avoid the use of pesticides and herbicides in your garden spot. If you feel you have to apply an insecticide to control nuisance insects, do so when bees are least active, usually early in the morning or late in the evening. Refrain from using chemicals on blooming plants or when wind threatens to blow the product around.