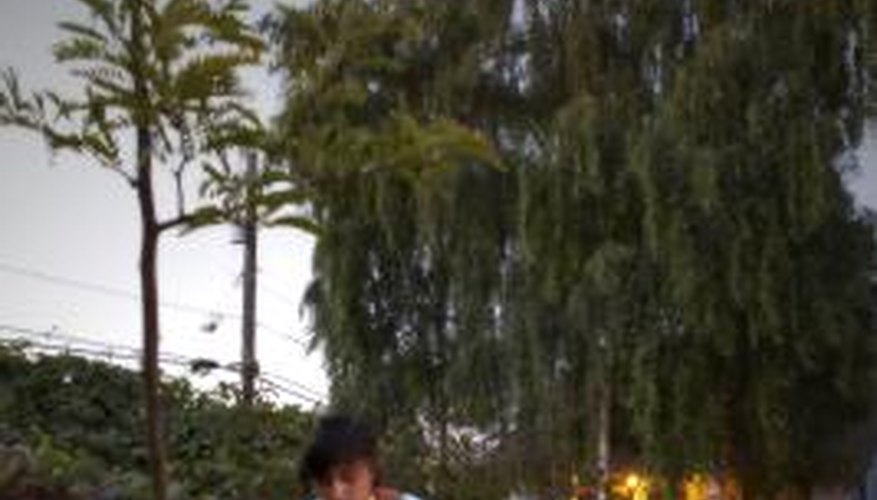 Thomas Northcut/Lifesize/Getty Images
Unilock makes pavers and retaining wall blocks for home landscapes. Its products include tumbled pavers that have the look of old-fashioned cobblestones and ultra-modern "permeable" pavers to reduce storm-water runoff. All Unilock pavers require some form of edging to secure the paver border and prevent the paved surface from weakening over time. The edging can be concealed completely or form part of the project's aesthetic design.
Edge Restraints
Unilock recommends using invisible edge restraints when installing any of its paver products. They come in 8-foot lengths and can be installed in straight lines or used for fluid, curving shapes. The plastic edging is slightly shorter than the height of the pavers, and so the edging is hidden when the installation is complete. It is designed to be staked into place along the outermost edge of all paved surfaces to prevent the pavers from creeping outward into the adjacent soil. Edging is not necessary where a rigid structure, such as a house's foundation, abuts the pavers.
Edging Installation
Install flexible edge restraints after the majority of the pavers have been placed and all that remains to be laid is the outermost row of pavers. The edge restraints must be installed into the same foundation or base material that is beneath the paved area. That material typically is crushed rock over a base of compacted subsoil, which must extend several inches beyond the area to be paved in order for the edging to be on solid ground. Cut the edging to size as needed, and stake it into place with the spikes that came with it.
Concrete Edging
A concrete lip can be constructed as an alternative form of edging for Unilock pavers. The lip can be concealed just below the surface of the paved area, as can the flexible edging, or it can extend above the pavers to form a curb. A curb is useful when the adjacent soil level is higher than the pavers because the curb prevents mulch and soil from washing downward and onto the pavers. Whether shorter than the paved surface or taller than the paved surface, concrete lip edging serves as a rigid structure that holds the pavers in place.
Pavers as Edging
If a concrete footing is poured around the perimeter of the area to be paved, then Unilock pavers can be used as an edging material. If you want to use that application, pour a concrete footing at least 6 inches deep and at a width equal to the width of two pavers. The footing should come to within 1/2 to 1 inch of the bottom of the pavers. Spread a layer of mortar on top of the concrete footing, and install the pavers in the mortar flush with the rest of the surface. As an aesthetic enhancement, use a different kind of paver for the edging to form a decorative border.