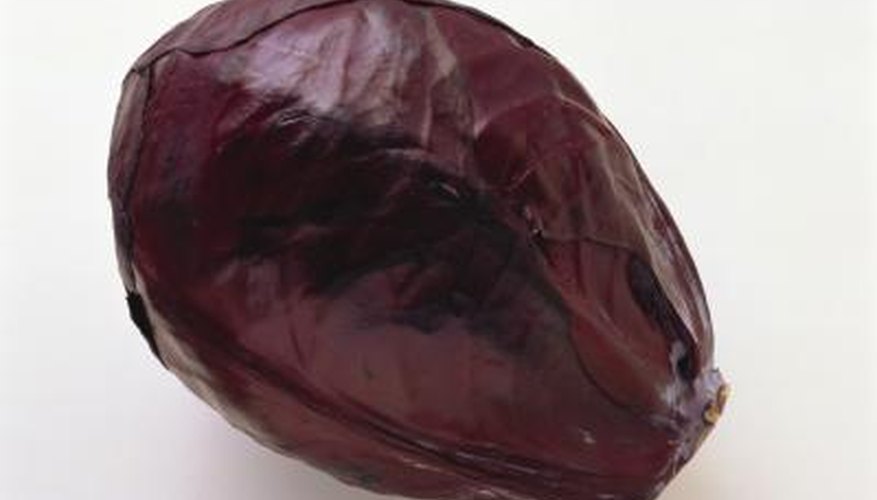 Green cabbage (Brassica oleracea capitata var. alba) and purple cabbage (Brassica oleracea var. capitata f. rubra), also called red cabbage, taste pretty much the same. The chief difference is that the color of purple cabbage may vary according to how you grow or cook it, and it contains compounds that are thought to be useful in preventing some diseases.
Color and Cultivation
Green cabbage will always grow green. The color of purple cabbage depends on the acidity of the soil. Its leaves will be more purple if it is grown on acidic soil; acidic soil, usually found in moist climates, has a pH below 7. Its leaves will be greenish-yellow if it is grown in alkaline soil; alkaline soil, usually found in dry climates, has a pH above 7.
Color and Cooking
When you cook purple cabbage, it will normally turn blue. To prevent this, add 1 teaspoon of vinegar or lemon juice to your cooking pot. This change of color is made worse if you cook purple cabbage in alkaline water. Purple cabbage tends to bleed and discolor other foods during cooking.
Culinary Uses
Green cabbages are more tender than purple cabbages, which take longer to mature. There is no appreciable difference in the taste between green and purple cabbage. Green cabbage is often used as a wrapper with meat fillings. The main use of purple cabbage is to add color to salads and slaws.
Nutrients
USDA research shows that green cabbage contains more vitamin K and vitamin A, while red cabbage contains more potassium and magnesium. They contain roughly the same amounts of phosphorus, calcium and other nutrients. Red cabbage contains more antioxidant and anti-inflammatory compounds called anthocyanin polyphenols. Antioxidants neutralize unstable molecules called free radicals that have been linked to cancer, plus liver, heart and other diseases. USDA scientists have found 36 anthocyanins in red cabbage. You lose some of these healthful nutrients by cooking cabbage; the longer you cook cabbage, the fewer nutrients you get.