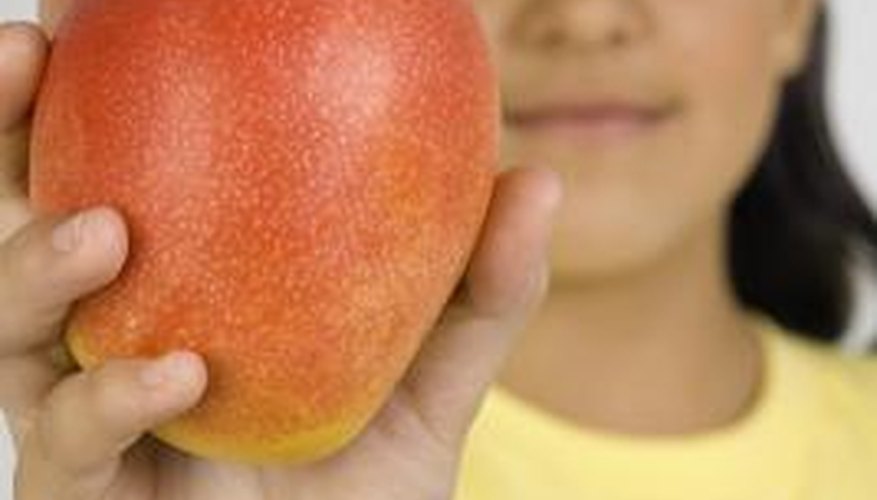 The branches of the mango tree are covered with spikes of flowers, attracting butterflies, moths, native bees and other flying insects seeking nectar. Once the tree has bloomed, the luscious fruits will be ready for harvest in three to five months. Cultivated since the 5th century B.C. in southern Asia, the mango (Mangifera indica) has more than 500 known varieties. Mangoes are subtropical and tropical trees, hardy in U.S. Department of Agriculture plant hardiness zones 9 through 11.
Age of the Tree
Mango trees grown from seedlings begin blooming and fruiting in three to six years. However, the new tree's fruit is unlikely to match the flavor of the original; mango seedlings don't grow true to the parent tree. Generally, a twig of the desired variety is grafted onto a suitable rootstock. A grafted tree blooms and fruits in one to three years, although you should thin or remove the fruits for the first two years so the tree has time to mature.
Blooming
Mango trees bloom between December and April, depending on the variety. Early varieties that bloom in December and January, include "Rosigold," "Haden" and "Manilita," while mid-season varieties such as "Alphonso" and dwarf "Cogshall" bloom between January and March. The late-season mangoes include the naturally small "Graham," which is easily maintained at 8 feet tall, dwarf "Julie," semi-dwarf "Lancetilla" and "Keitt." Pollination of the flowers is affected by temperatures below 55 degrees Fahrenheit, high humidity and rain, reducing the number of fruits produced by the tree.
Ripe Fruits
The earliest ripening mango is "Rosigold," with ripe fruits beginning in March and lasting through June. The latest ripening mango is "Keitt" with fruit on the tree as late as November. Your mango tree's fruits ripen between 100 and 150 days after blossoming. Test the mango's ripeness by gently pulling on the fruit. If it detaches easily from the stem, it's ripe. Mangoes are related to poison oak and poison ivy; the sap and rind of the fruits contain an oil, resorcinol, that may cause a severe allergic reaction. Wear gloves and safety glasses when harvesting the fruits and wash them thoroughly to remove the sap.
Double Crop
The majority of mango trees blossom and fruit once a year until age 10, then every other year for the rest of the trees' very long lives. One variety, however, "Choc Anon," also known as "Miracle," can produce two harvests per year. Blooming between August and October, the tree's fruits are ready for its first harvest between November and January. Under ideal conditions, it may bloom again in April, producing a second harvest in July.