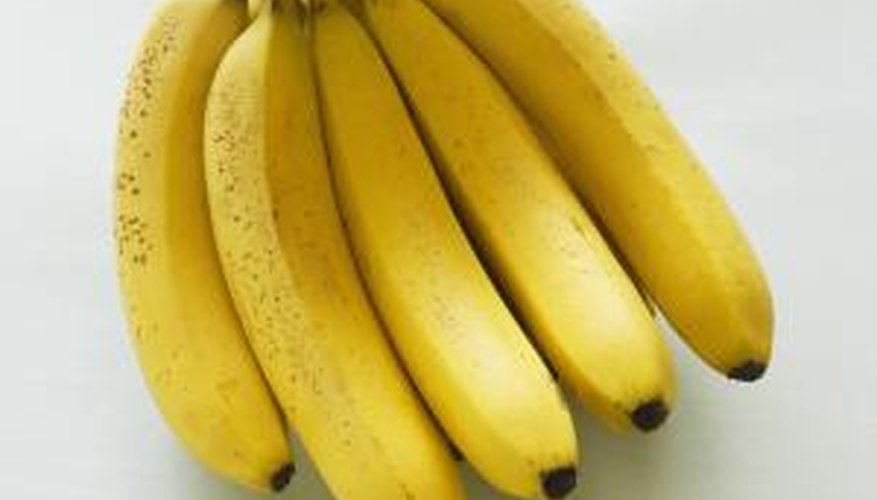 Bananas (Musa spp.) are herbaceous plants, not trees as they are sometimes called. Concentric layers of leaves form thick stalks called pseudostems. Nine to 12 months after planting, flowers form at the tips of true stems that grow up the center of the pseudostems. These flowers yield mature bananas two or three months later. You can let bananas ripen on the tree or pick them green and let them ripen.
Climate and Maturation
Bananas will grow in U.S. Department of Agriculture plant hardiness zones 8 through 11 although they need 10 to 15 months of frost free weather to grow a flower stalk. Bananas are best grown in a climate with 4 inches of rain a month and an average temperature of 80 degrees Fahrenheit. Once bananas have formed, cold weather may delay their maturity for several months or stop it completely.
Ethylene and Ripening
Ethylene is a natural plant hormone in the form of a gas. Bananas give off ethylene naturally. You can speed the ripening of other fruits by putting them in a paper bag with ripe bananas that give off ethylene. Commercial growers ripen bananas in storage rooms at temperatures from 58 to 75 degrees with controlled humidity and flood them with ethylene every six hours for one to four days.
Harvesting Bananas
Bananas usually form stalks in late summer. They begin plumping up in late winter and ripen in early spring, although a stalk may occasionally form in early summer and ripen before cold weather. Harvest hands of green bananas one or two weeks before they turn yellow on the plant. Look for smooth edges and sides that have swelled. If you leave bananas to ripen on the tree, you risk rodents eating the inside of the clump where you can't see the damage.
Ripening Bananas
Bananas ripened by hanging or ripened artificially are sweeter than those that ripen on the tree naturally. If you pick and hang green, mature bananas, they should ripen in about a week. If you want to speed their ripening, cover bananas with a plastic bag to trap the ethylene. In place of expensive storage and ripening rooms, some commercial growers store bananas in polyethylene bags with blocks of vermiculite to absorb the ethylene. This allows them to store bananas up to four weeks before allowing them to ripen.