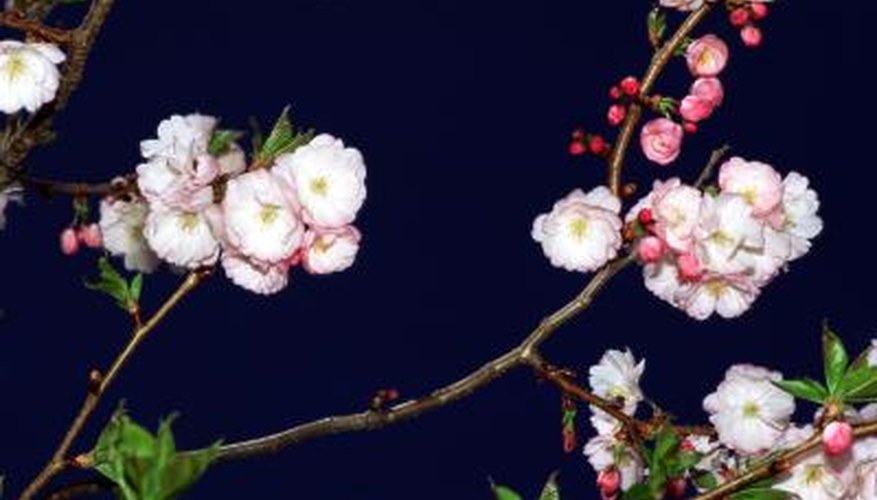 Crabapple trees (Malus spp.) are deciduous trees closely related to apple trees. They produce a profusion of small flowers that range from pure white to dark purple-red, along with small applelike fruits that are less than 2 inches in diameter. Fruits are yellow, orange, purple or red and are often used to make jellies, jams or other desserts. Some varieties drop their fruits when they mature, but some persist into winter and are a magnet for wildlife, especially birds. Crabapple trees are hardy in U.S. Department of Agriculture plant hardiness zones 3 through 8.
Less Than 10 feet Tall
A few crabapple varieties are extremely small and almost shrublike in stature. They are often grafted onto an interstem, which is grafted onto a separate rootstock, so these trees are often three different trees in one. "Sargent" (Malus sargentii), a naturally occurring dwarf, and "Sargent Tina" (Malus sargentii "Tina"), sometimes just called "Tina," both bear white, fragrant, single flowers and red fruits that persist on the tree, but "Tina" is a more dwarf form. "Firebird" (Malus sargentii "Firebird") bears red buds that open white and have bright red, persistent fruits. "Pink Princess" (Malus "Parrsi") bears purple buds that open pink and deep red fruits.
10 to 15 feet tall
These trees get a little larger than the dwarfs but still stay small enough to be suitable for small yards. "Red Jewel" (Malus x "Red Jewel") and "Lollipop" (Malus "Lollizam") both produce white flowers, but "Red Jewel" has red fruits while "Lollipop" has yellow fruits and is more globelike. Both "Lancelot" (Malus "Lancelot") and "David" (Malus "David") are red in bud but open white, but "Lancelot" has gold fruits while" David" has red fruits. "Royalty" (Malus Royalty") has deep purple flowers and leaves and dark red fruits, while "Coralburst" (Malus "Coralburst") bears coral-pink buds that open to double pink flowers.
15 to 19 Feet
Several crabapples are still small but large enough that they shouldn't be planted under power lines or too close to buildings. Some varieties bear attention-grabbing magenta to purple flowers, such as "Red Barron" (Malus "Red Barron"), "Royalty" (Malus "Royalty") and "Indian Magic" (Malus "Indian Magic"). All have red fruits. "Cardinal" (Malus "Cardinal"), "Thunderchild" (Malus "Thinderchild") and "Brandywine" (Malus "Brandywine") bear rosy pink flowers, but "Brandywine's" flowers are double and "Thunderchild" has complementary purple foliage. "Floribunda" (Malus floribunda) bears pink buds that open white and yellow to red fruits.
Weeping Varieties
Weeping crabapples are grafted onto an interstem that's commonly about 6 feet tall. They seldom exceed 12 feet in height and look best when planted as solitary specimens. "Red Jade" (Malus "Red Jade") and "Molten Lava" (Malus "Molten Lava") both bear pink buds that open white and abundant red fruits, but "Molten Lava" has yellowish bark. "Louisa" (Malus "Louisa") bears pink flowers and yellow fruits and grows in an umbrella shape.