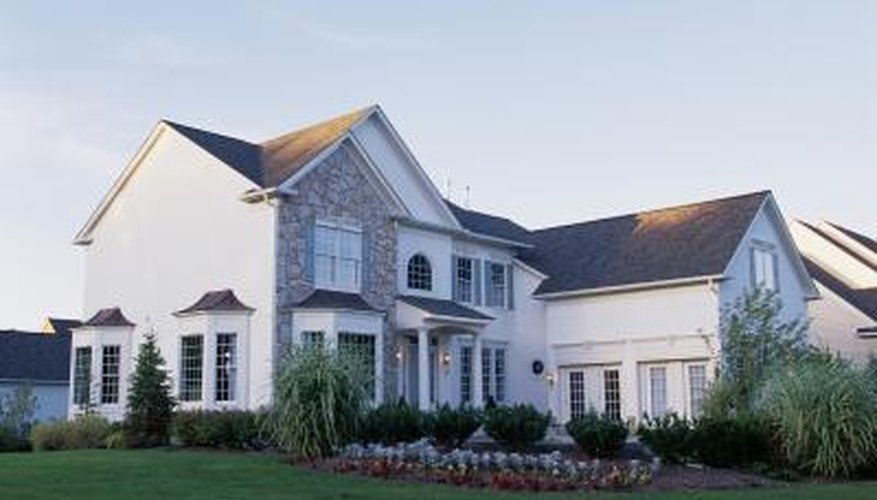 Foundation plantings were once used to hide the unsightly foundation of old homes. Today, however, they play a pivotal role in softening the corners of a home, creating boundaries, highlighting architectural details and welcoming visitors to the front door. Small evergreens, whether short globes, structured pyramids, carpets or hedges, can help shape your foundation plantings and serve as an ideal base for you to plan the rest of your front landscape. Year-round color, hardiness and ease of maintenance are all benefits of small evergreens.
Foundation Basics
The front corners of your house can stick out like sore thumbs. Use rounded corner plant beds that wrap slightly around the home's corners to blend them into the rest of your landscape. Generally, moderately tall shrubs, small trees or structured evergreens that cover the hard angle of the corners from multiple views form the base of the design for these beds.
Several species of junipers (Juniperus spp.) work well for this application. "Skyrocket" (Juniperus scopulorum "Skyrocket"), for example, grows up to 20 feet tall and only 2 to 3 feet wide, making it a stately specimen for a corner. "Blue Point" (Juniperus chinensis "Blue Point") has an aesthetically rich blue-green foliage and stately pyramidal shape. It grows 12 feet tall and 8 feet wide. Both varieties are hardy in U.S. Department of Agriculture plant hardiness zones 4 through 9.
Once you've chosen your base corner plants, placing smaller evergreens in front of and to the sides of them will help ease the transition from home to yard. The corner plantings should transition into beds in front of your home while a structured piece or specimen plant should highlight the entrance to help draw the eye to your front door.
Hedge Selections
Foundation hedges may be old news, but they still have a place in modern landscape design. Gone are the days when one hedge across the front of the home was the norm; today, hedge evergreens are only one piece of the puzzle.
Several kinds of evergreens are suitable for hedges, and they are primarily broadleaf evergreens. Many dwarf varieties of several species cut down on the absoluteness of the standard yew (Taxus spp.), which grows in USDA zones 4 through 7, depending on the species, or boxwood (Buxus), which grows in USDA zones 4 through 9, depending on the species.
Several dwarf cultivars of holly (Ilex spp.) are optimal for hedges. Holly, which grows in USDA zones 5 through 11, depending on species, is available in a wide variety of shapes, colors and habits.
Shape Up
Evergreens come in a wide assortment of shapes; mounds, pyramids, columnar and whimsical, unstructured forms line plant nursery grounds. You don't have to compromise form when you choose to go with small varieties either.
Several boxwood hybrids have small shapes and forms considered pleasing. "Green Gem" (Buxus "Green Gem") and "Green Velvet" (Buxus "Green Velvet") grow into rounded mounds and reach 2-by-2-feet and 3-by-3-feet, respectively. These small mounds easily replace standard hedges for a different look when planted in a staggered row or odd-numbered group. "Green Mountain" (Buxus "Green Mountain") grows into a 5-foot-tall by 3-foot-wide pyramid, making it an option for specimen plantings near the entrance to a home or in front flowerbeds. Each of those boxwood cultivars is hardy in USDA zones 5 through 8.
"Golden Mop" threadleaf false cypress (Chamaecyparis pisifera "Golden Mop"), which is hardy in USDA zones 4 through 8, is only one example of a loose-form evergreen for a specimen in front of your home. Its golden color performs best in full sun, and this mop-shaped evergreen grows fewer than 3 feet tall and spreads 4 feet wide.
Ground Covers
Carpet-form evergreens can cover a lot of space with minimal effort. Growing under 2 feet tall and spreading upward of 10 feet, carpet evergreens provide texture and, in some cases, color to a front landscape. Because they grow so low, however, they should be used more as accents and transitions away from your home than as traditional foundation plants.
Several junipers work well for this application, and some are available in a wide range of heights and colors. One carpet-form juniper is Icee Blue (Juniperus horizontalis "Monber"), which is hardy in USDA zones 3 through 9. This variety displays blue color and turns plum-purple in winter in the coldest climates of its range. It reaches only 4 inches tall and spreads up to 8 feet.