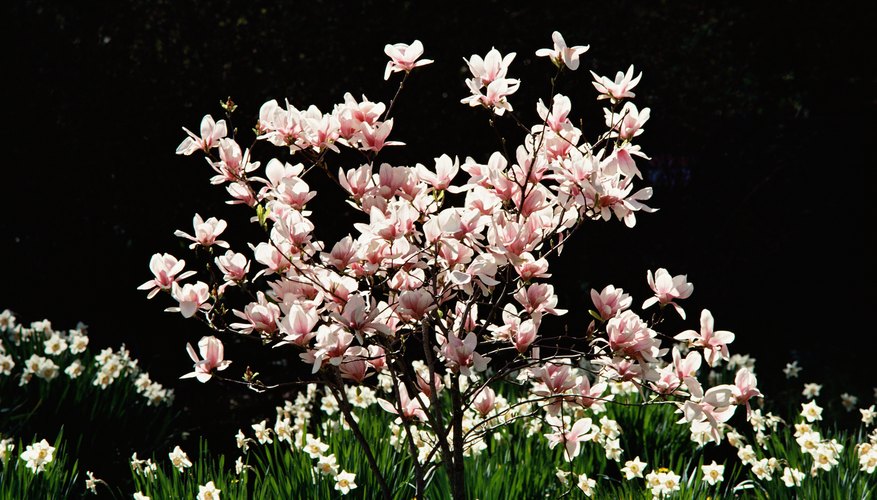 Star magnolia (Magnolia stellata) is a small tree, native to Japan, that is hardy in U.S. Department of Agriculture plant hardiness zones 4 through 8. The trees, which bear showy, star-like flowers in mid-spring, are useful as stand-alone specimens or as part of a garden planting scheme. Star magnolia grows to about 20 feet, with a maximum 15-foot spread. The species flower color is white, but pink or rose-colored forms are also available.
Pink-Flowered Varieties
Some white-flowered star magnolias are pink in bud, but the flowers are white when fully open. Other varieties retain the pink color when the petals unfurl. "Rosea" is a star magnolia with medium pink buds that open to pale pink flowers with many narrow petal-like tepals. A variety with even more petals, up to 45, "Chollipo" may have been bred in Korea. American-bred "Pink Stardust" is another many-petaled form, with large, 4- to 5-inch fragrant flowers.
Dark Pink Varieties
"Persian Plum" is a star magnolia with very deep purple-pink flowers. The flowers have up to 32 petals each. Bred in Japan by magnolia hybridizer K. Wada, "Rubra" also has rich rose-purple flowers that fade to pink, with 16 petals apiece. Each petal has a slightly twisted appearance. The dark pink flowers are set off by yellowish-green foliage. "Cody" is another deep rose-flowered variety, which Michael Dirr, University of Georgia professor emeritus, characterizes as "fine."
White-Flowered Types
There are many white-flowered varieties of star magnolia. "Waterlily" starts out pink in bud, but opens to fragrant white flowers with 14 to 30 petals apiece. It reaches between 15 and 20 feet at maturity. Another K. Wada variety, "Chrysanthemumiflora" takes its common name from the fact that the open flowers resemble football-type chrysanthemums, often with 40 or more petals each. "Scented Silver" has fewer petals than some other varieties, but makes up for that by featuring highly scented flowers. Unlike many other star magnolias, it is taller than it is wide.
Color Combination
"Dawn" features fluffy flowers, with 25 to 40 petals each. It is unusual because it features a pink stripe that runs from the base of each white petal to the tip. The petals are also less slender than those of some other stellata varieties. "Dawn" grows to about 6 feet tall, with a similar spread. Its many-branched habit makes it more likely to be grown as a shrub than as a small tree.