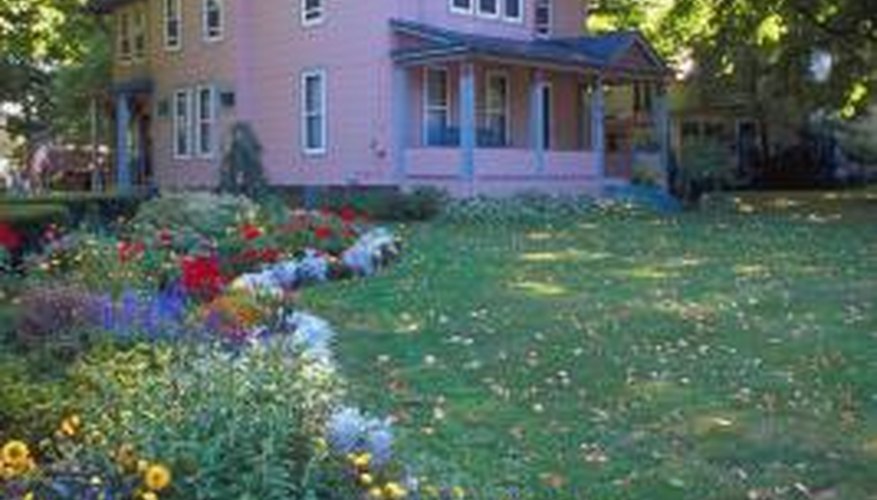 First impressions count the most, and front yard landscaping is no exception since it often sets the theme for the rest of your yard and garden. Coordinating design elements between your house, yard, entry, paths and outdoor structures creates curb appeal, which, if done correctly, can increase the value of your home as well as your pleasure in your home environment. When choosing outdoor design elements, first consider the space you have to work with, then how the space will be used. Before choosing plants, consider growth habits, maintenance and longevity.
Stone Design Tips
Stone is an attractive and low-maintenance addition to front yard landscapes. Try to use the same type of stone for an entire island or area but integrate a variety of sizes. For a native look, embed the stones so that at least two-thirds of the mass is visible above the soil line. All of the grooves and fissures should be running in the same direction, making it look like a natural outcropping. To break up the monotony of stone ground cover, use columnar conifers to add vertical interest. For a shady yet rocky area, use shade-loving evergreens to add depth and texture.
Create Impact
Focal points can put your front yard on center stage by creating impact from numerous vantage points. Adding a cluster of tall bamboo, a small collection of ornamental trees, dwarf fruit trees or an outdoor structure framed in climbing vines forms a central, eye-catching attraction. Create a sea of pebbles in a surrounding bed with a meandering river of larger pebbles or pebbles of a contrasting color. Consider the view from multiple vantage points, such as the street, sidewalk or an entry gate, particularly in smaller, urban spaces.
Paths and Walkways
Always try to make the path or walkway to the front door as direct as possible and wide enough to comfortably accommodate two people walking side-by-side. The path from the sidewalk, driveway or an entry gate to the front door should take the shortest route if you want it to be used. However, walkways can be made to look more attractive by introducing gentle curves or by lining the path with a narrow bed of mulch -- make the bed wider if you want to minimize lawn space -- and small pockets of drought-tolerant, low-lying, easy-care plants such as ornamental grasses that add movement, color and texture.
Reduce Lawn Size
Don't be limited by a lawn. While grass is beautiful, it requires a lot of maintenance to keep it that way. Instead, consider decreasing the size of your lawn and increasing the size of paved areas. Properly laid hard surfaces, such as pavers, bricks or flagstone, need only an occasional sweep and maybe an annual treatment for moss. Gravel, although cheaper and easier to lay at the outset, needs periodic weeding, unless laid over a permeable membrane. You can also add large pavers within planted areas to minimize the size of your lawn, giving access to backyard areas and outdoor structures. Doing so also creates the illusion of space in a sea of green.