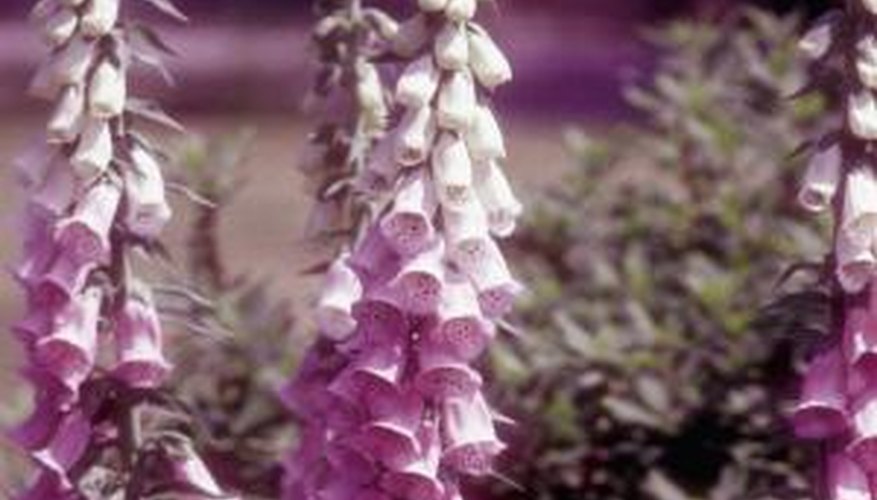 Foxglove (Digitalis spp.), a member of the figwort family of plants, is also known as finger flower and fairy glove in reference to its large, bell-shaped flowers. This native to central and Western Europe is now naturalized and cultivated as an herb and ornamental in Asia, North Africa and North America, including the Pacific Northwest and northeastern U.S. Foxgloves behave as biennials or short-lived perennials, but will self-seed and multiply in the right environment.
Habitat
Common foxglove (Digitalis purpurea), also known as purple foxglove, thrives in the cooler climates of U.S. Department of Agriculture hardiness zones 4 through 9. Some hybrids, however, such as strawberry foxglove (Digitalis X mertonensis) are also successfully grown in USDA zone 3. The soil should be loamy, moist but well-drained and enhanced with plenty of organic material. Although foxgloves can tolerate partial sun, they do best in locations with partial to full shade. Before you get the idea that foxgloves are "picky," consider that common foxglove can grow in waste areas and even between crevices in rock walls with barely any soil at all.
Recommended Sites
Prime locations to plant foxgloves include shade gardens, especially woodland settings. The latter is particularly ideal because of the moisture and nutrient-rich culture the "floor" naturally provides. This is also the best setting to encourage your foxgloves to naturalize. To accomplish this, simply leave the mature flower stalks intact after flowering to promote self-seeding. You don't need to worry about foxglove becoming invasive or competitive with other native woodland species. As an added bonus, chemicals in the plant make foxglove deer and rabbit-proof.
Display Suggestions
Foxgloves are traditional favorites in cottage-style gardens, where they provide a dramatic backdrop for other plants in borders and beds. To enhance dimension and color contrast, try planting foxgloves in combination with columbine (Aquilegia spp.), meadow rue (Thalictrum), sword ferns (Polystichum munitum) or hardy begonia (Begonia grandis).
Considerations
Foxglove has a long history of use in traditional medicine in treating asthma and heart disease and alkaloids from the plant are still used today to produce medicine to control irregular heartbeat. However, because all parts of the plant are extremely toxic if ingested, care should be taken to prevent accidental poisoning if you have small children, pets or livestock. This could mean limiting unsupervised visits to the garden, or enclosing your foxgloves behind a secure gate.