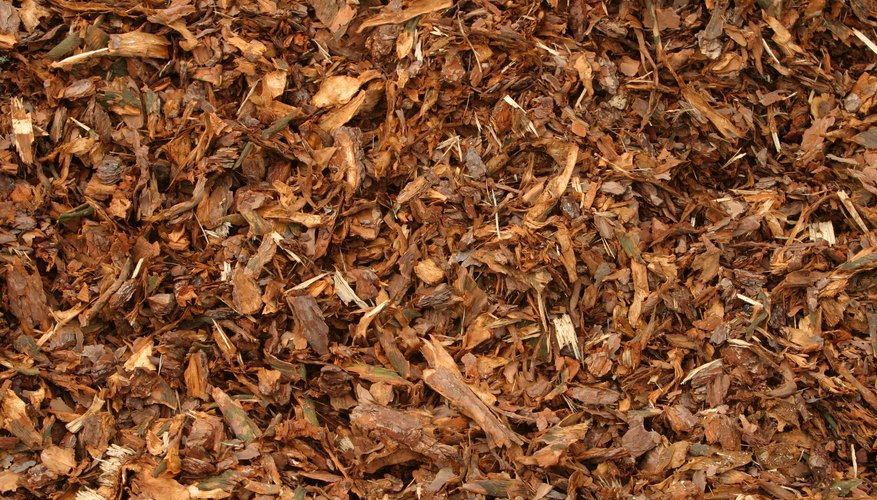 Bark mulch serves several valuable functions in the landscape. Adding bark to planters is optional and may have some detrimental effects on the health of plants. Weigh the pros and cons of bark before you add it to containers, and consider some effective alternatives--including adding more plants to cover exposed soil.
Function of Bark Mulch
Covering exposed soil with bark mulch retains moisture and suppresses weeds. Bark mulch is intended as a temporary measure until plants have matured. Use it for newly installed landscaping when plants haven't filled in or grown large enough to shade out weeds and slow moisture evaporation with their foliage. Bark also has a decorative aspect, adding a finished appearance to the landscape work. As it decomposes, bark adds organic matter and nutrients to the soil, improving soil structure.
Cautions
Bark mulch needs to be applied at the correct thickness -- usually 1.5 to 2 inches -- and should not touch plant stems. Many people add more bark when its color fades. If the bark gets too deep, the soil can become saturated, which slows the circulation of nutrients and oxygen in the soil. Beneficial soil organisms can be inhibited, and harmful stem and root disease may become established. Thick layers of mulch also provide conditions for mold. In addition, some bark may contain plant toxins.
Advantages for Planters
The decorative effect of bark is prominent in planters. It adds color and warmth to newly planted containers; the color and texture can complement the container, adding to the impact of the design and arrangement. Bark in containers also conserves water in hot weather, especially for shallow containers -- the mass of soil in large planters has more moisture-holding capacity. As the plants mature and fill in, the bark can be tilled into the soil.
Disadvantages
Bark mulch can be harmful to plants when most of the roots are in the surface layer of the soil or shallow-rooted, as they are in planters. When the soil mass is already retaining water, bark mulch can hasten the development of mold and fungi. Dense plant spacing serves the same functions as bark mulch moisture retention and weed suppression. Other organic mulches, such as shredded, partially rotted leaves, may be more beneficial as a temporary, less costly mulch for containers.