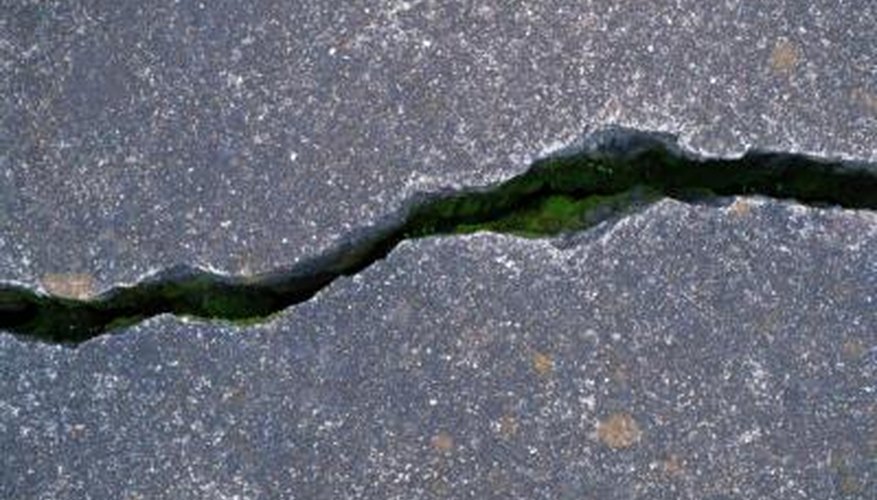 Unless there is a structural defect in the foundation, the cracks you see in the basement might be the result of soil movement. Horizontal cracks in basement walls usually indicate soil pressure on the exterior basement walls, causing them to crack from side to side on the interior of the basement. Cracks can allow water to seep into the basement, so repairs are essential. If your basement walls have numerous cracks or if the cracks are wider than 1/4 inch in diameter, consult an engineer to rule out a structural problem.
Wall Preparation
Before you can seal and repair the cracks, you'll have to remove any loose debris. Use a thin putty knife or metal-bristle brush to scrape bits of debris out of the crack. If the crack occurs along the seam of a concrete block foundation, you might find chunks of loose mortar in the joints. Remove these chunks, even though it makes the crack look wider. Once the cracks are clean, seal them by brushing on an epoxy product meant for use on masonry. Work the sealer deep into the crack with a natural-bristle brush. Leave the sealer on for the recommended amount of time, and then check for moisture. If you find lingering dampness, seal the crack again.
Fill the Cracks
Many types of masonry crack filler are available. If you're fixing cracked joints on a block wall, use a mortar product and smooth the wet mortar into the sealed cracks with a small mason's trowel. Smooth the surface of the cracks flush with the wall while the mortar is still wet. Polyurethane fillers are available in cans for use with a small trowel, or in tubes that fit into a caulking gun which allows you to squeeze the filler into the cracks. Always choose a product suitable for use on masonry.
Exterior Repairs
Exterior repairs and steps to stabilize the foundation may be in order if the basement wall continues to crack. Most exterior foundation repairs are major projects, can be very expensive, and are best left to the pros. Exterior repairs might include excavation, filling the cracks and sealing the exterior basement walls. If excavation is necessary, your contractor may install perimeter drain tile or extra foundation supports at the same time.
Prevention
The simplest way to reduce basement cracks is to reduce excess moisture around the perimeter of the basement. Steps homeowners can take include grading the yard so it slopes away from the basement walls, removing foundation plantings and installing guttering and downspouts.