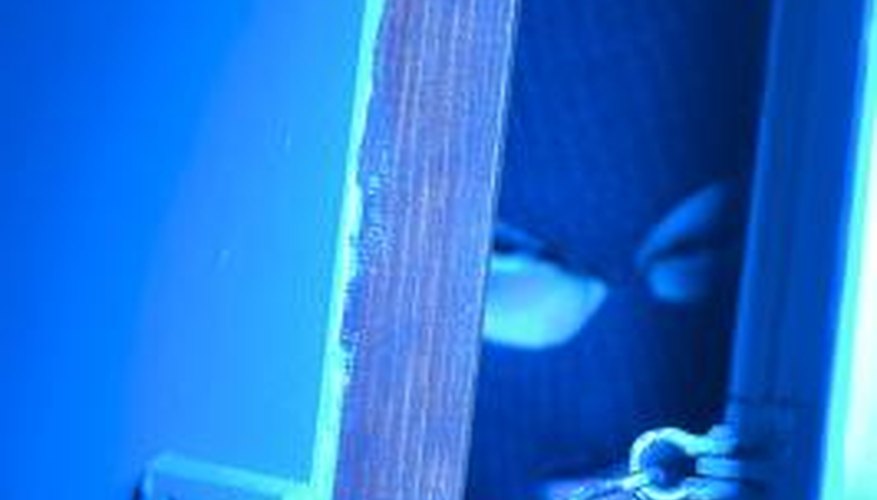 Protecting your property and your home is accomplished through having security systems and basic procedures for keeping your house safe and secure. A driveway alarm is used to monitor the driveway, which often leads directly into your home. Choosing the best driveway alarm is based on your goals, budget and desired level of protection. Different driveway alarms work for different people, and picking the best solution is a personal preference decision. In general, the more advanced an alarm system, the more expensive it becomes.
Wired Driveway Alarms
The least costly driveway alarm systems available are those that utilize wires to detect vehicles and large objects crossing over wires that are linked to sensors detecting movement and pressure. This baseline version of a driveway alarm is beneficial for those with limited budgets and for those seeking only to know when a vehicle enters or exits a driveway. The rudimentary mechanisms of the system allow for easy operations, low cost of ownership and fast installation. The wires cross over the driveway and are triggered once pressure is exerted on the wire, thus alerting you when movement is determined. This type of system must be hardwired in to an electrical system for operation.
Wireless Driveway Alarms
Working in a similar fashion to a wired driveway alarm, a baseline wireless driveway alarm also detects movement on a driveway. Though the primary access point and control panel requires electricity for operations, the sensors placed on and along the driveway are wireless and are thus battery powered. Routine upkeep such as changing batteries and making sure sensors remain clean are part of continual upkeep to ensure the system remains operational.
Infrared Sensors
Whether using a wired or wireless system, the inclusion of infrared sensors for a driveway alarm helps transform the system into a more integrated one. The infrared sensors are more sensitive to movement, thus picking up and detecting motion on the driveway beyond vehicles. The infrared beams of light can sense people and animals walking on or along the driveway, which is beneficial for those seeking to maintain a more secure perimeter. The sensitivity of the sensors can be adjusted in the event the beams begin detecting too many nuisance occurrences, such as small animals, birds, debris or wind.
RFID Technology
Expanding a driveway alarm system through the use of RFID technology makes your system more customizable. The RFID tags, which emit infrared identification technology information, can be programmed directly in to the system. The benefit of this is that vehicles that are allowed and known to the property owner can be coded in to the system as objects that do not trigger the alarm, even once set. This allows a homeowner to program all vehicles into the system, activate the alarm and thus only receive notification by the alarm system when an outside or intruder vehicle is detected. In addition, the rest of the system also will continue to pick up other movement, thus alerting homeowners to people, animals or large objects.
Metal Motion Sensors
A vehicle-specific addition to a driveway system is to include metal sensors along the edges of the driveway. This option allows the driveway alarm to be most targeted towards monitoring, detecting and alerting homeowners to vehicles entering the area. The metal sensors detect vehicles, based on the sheer amount of metal associated with cars, trucks, vans and other types of vehicles. This is an option for those only wishing to track vehicular movement.