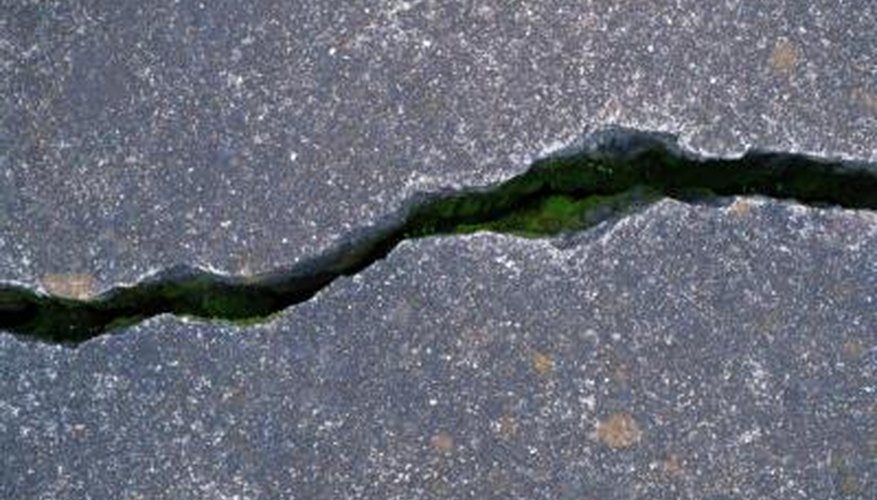 You may think that your house is on a solid foundation, but that might not be the case at all. If you have noticed cracks in the foundation of your home or any separation between the walls of your home and the foundation, there's a good chance that your house is shifting or settling.
Polyurethane Foam
Different materials can be used to fill in the cracks between cement and your house, but some will have a limited capacity to resist the elements and seal off the home from moisture, bugs and the outside temperature. Expanding polyurethane foam is one of the better materials you can use to seal cracks and gaps. This foam comes in a container with an applicator that you simply insert into the cracks. When the foam dries, it forms a hard shell that is highly impenetrable to the outside elements.
Caulk
Smaller gaps between your home and the cement can be filled with caulk. However, caulk does not expand the way that polyurethane foam does. Therefore, when your house shifts again, the caulk is likely to remain in place and will no longer continue to fill in the gaps. Rather than using caulk alone, better practice is to use polyurethane foam to fill the gap, then apply a caulk seal around the edges of the foam to help waterproof it.
Epoxy
Epoxy sealant provides an alternative to caulk as a waterproofing agent. However, there are some gap sealers on the market that contain a combination kit that includes both an expanding foam and epoxy. These sealing systems use an injection method for filling in the gaps between the cement and the home. The epoxy forms an outside membrane into which you inject the foam to fill in the gaps.
Grout and Silicone
It is possible to use additional grout to fill in the gaps between the cement and your house, but you will need to mix it as thick as possible to prevent it from running back out of the gap. The problem with this method is that it can be difficult to fill in large gaps and ensure that you fill in all areas above a crack. Silicone provides a final option for small gaps that need to be waterproofed. This generally works only as a waterproofing agent and will not effectively insulate the home.