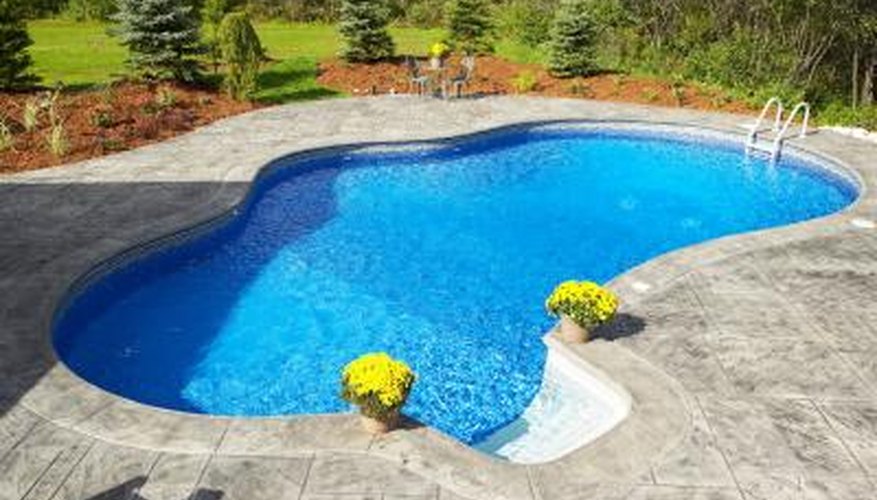 An in-ground swimming pool may collect debris on the bottom and in the filter when your Hayward Navigator vacuum stops moving. This vacuum can be programmed to move along the sides and bottom of your pool, vacuuming it to keep the water clear of dirt, leaves and other objects. Certain pool liners and worn out parts may stop your Hayward Navigator vacuum from moving. You may be able to troubleshoot the vacuum yourself and save on a service call.
Vacuum Not Climbing Walls
Vinyl pool liners on in-ground pools have very sharp angles, making it impossible for the Hayward Navigator vacuum to climb the walls. Check the type of pool liner you have if the vacuum only moves along the bottom of the pool and sides of the hopper. The vacuum will stop moving if you manually try to lift it to clean the walls of a vinyl pool liner. Most normal dirt and debris fall to the floor of an in-ground pool with a vinyl liner. The walls do not accumulate much dirt.
Hose Damage
The Hayward Navigator vacuum comes with several sections of vacuum hose. While it is tempting to store these hoses in a coiled configuration, doing so may kink the hose. Any rounded or kinked hose sections may stop the vacuum when it has been reassembled and put into the pool. The hose sections should be stored in a straight position. The hoses and vacuum should also be removed from the pool when you super chlorinate, shock your pool with chemicals, or add gas chlorine to your pool to prevent damage to the vacuum hoses.
Shoe Wear
The shoes on the bottom of the Hayward Navigator vacuum are part of the propulsion system that moves the vacuum. A worn shoe is indicated by the disappearance of the shoe wear indicator line. This line is a different texture than found on the rest of shoe. It is gradually worn away with vacuum use. Replace the shoes by turning the vacuum upside down. Pry each worn shoe loose with a screw driver. Wet each new shoe first, and then insert the small post into the small hole on the vacuum and the large post into the large hole.
Navigator Bumper Replacement
You may void the warranty on a Hayward Navigator vacuum if you attempt some major repairs yourself. Trying to replace the bumper, however, may cause an even more serious problem. Occasionally, a replacement bumper may interfere with the navigation system, causing your vacuum to stop moving. If you replace the navigator bumper and the system does not move, a service call may not be covered if your vacuum is still under warranty. Have a qualified service person replace the bumper for you instead.