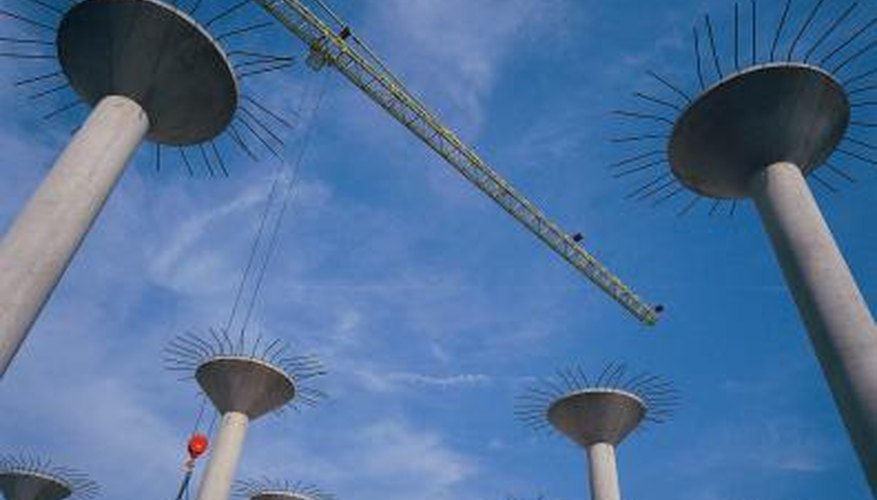 Traditionally, concrete columns have been made with a static casting process. The concrete is mixed and poured into a cylinder mold. It is then allowed to cure and harden, after which the mold is removed, resulting in a solid column. Spun concrete is a process used to make hollow core, high strength poles, columns and pipes for architectural and civil engineering construction projects. The relatively light weight and intrinsic durability of concrete makes spun concrete ideal for many construction projects and in some cases has replaced steel poles and columns.
Concrete Mix
All concrete is a mixture of cement, water and one or more aggregates such as gravel and sand. Additional ingredients and chemicals may be added to alter or enhance the end product. The strength of concrete is governed by the manipulation of quantity, quality and composition of the ingredients as well as the manufacturing process. In the production of spun concrete, a high-strength concrete is required. The basic ingredients are the same; however, manufacturers of high-strength concrete have proprietary formulas that have been engineered and closely monitored for quality and consistency.
Molds
Molds for spun concrete are long metal cylinders in which pre-stressed steel strands are placed lengthwise around the inside perimeter. These are reinforcing wires that will remain as part of the internal structure of the column of concrete. The mold is closed on each end and a chute is positioned on the top side for pouring the concrete into the mold.
Process
High-strength concrete is poured into the horizontally positioned mold to a level predetermined to give the finished wall thickness desired. The mold is not completely filled to allow air space for the hollow core. The mold is then spun at a high velocity, flinging the concrete against the wall of the mold through centrifugal force. The spinning continues until the concrete is dense and compact. The completed column will be hollow and embedded with the pre-stressed wire that was included in the mold setup.
Additional Specifications
Builders, municipalities, architects and engineers have specific needs that have to be addressed for assembly, transport and construction codes. The manufacturer of spun concrete will assist the customer by modifying the mold or precutting or drilling openings and access points that will allow for ease of installation or transport. Spun concrete is a technical process subject to building codes and other regulations.
History
The invention of modern concrete is credited to the Romans, and modern Portland cement was invented in England in 1824 by Joseph Aspdin. An early pamphlet for Hume Pipe Company of Australia published in 1920 advertised reinforced concrete pipe made with centrifugal force. The Hume Brothers Cement Iron Company patented reinforced spun concrete in 1910 to be used in Australian irrigation systems.