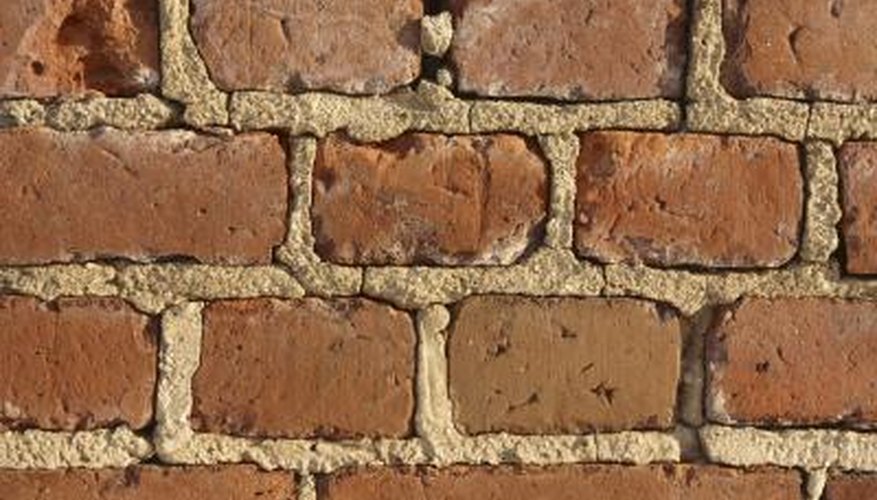 A well-built brick wall shouldn't leak. The proof of this is seen in the many antique brick buildings constructed before commercial sealants were available that still don't leak. However, many modern brick structures do leak, and the right type of sealer is an option worth considering if you need to stop water from penetrating your brick.
Water Repellent
A water repellent is slightly different from other types of sealers. Its primary purpose is ensure that water sheds off the surface instead of being absorbed into it. These types of products can help keep moisture from leaking through a brick wall if you've detected small amounts of water infiltration. If a strong water repellent doesn't prevent water from penetrating into the building, then actual repairs to the brick are probably required.
Silane
One type of repelling sealer that you can use on brick is one that is silane based. Many different companies have silane-based products. These products repel water, but also penetrate a short distance into the brick itself. This protects the brick but also allows air to move through the material so that existing moisture does not become trapped inside the brick forever. Silane sealers that are exposed to sunlight break down, so put additional coats on at the intervals recommended by the manufacturer.
Siloxane
Another ingredient to look for in brick sealers is siloxane. This is another effective base ingredient that provides an effective waterproof layer. Silicone is used for sealing a number of building materials, but it often doesn't breathe well enough to be an effective exterior brick sealer, as it traps moisture in the bricks. Siloxane is a specific type of silicone and breathes much better. If you do need to seal your brick, it makes an effective water repellent.
Interior Brick Walls
Sealing interior brick walls provides a couple of different benefits. It helps preserve the look of old brick, especially after it has been restored, and prevents damage to the mortar. For interior brick sealants, use a silicone- or polyurethane-based sealer. Polyurethane products will give the wall a more consistent and somewhat glossy covering, while silicone sealers won't affect the appearance beyond a slight deepening of the brick's color.