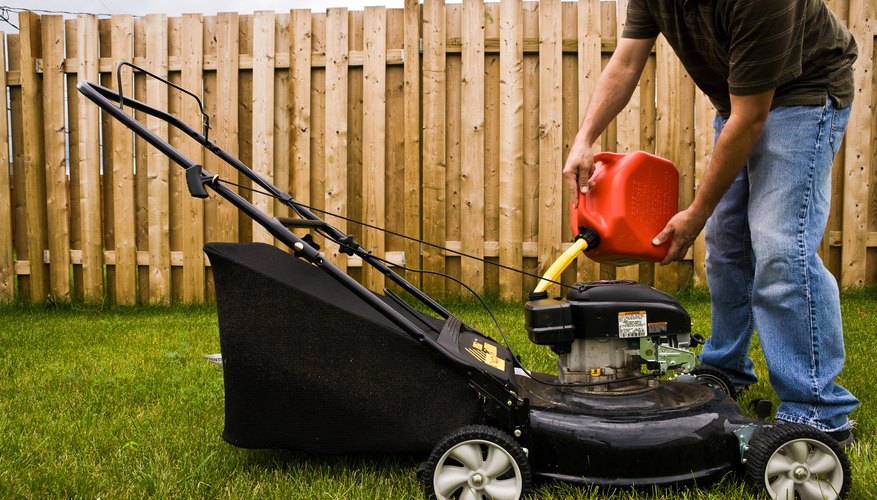 Every gas-powered lawn mower engine requires oil for operation. Oil acts as a lubricant for engine parts, which can get hot and wear each other down quickly without oil. Oil also keeps the engine cool. When choosing and filling up your mower's engine, be aware of your mower's oil capacity.
Oil Capacity
Your lawn mower's oil capacity depends on what type of lawn mower engine you have. Push mowers tend to have smaller oil capacity than engines for riding mowers. Lawn mowers with high displacement engines, like the Honda GX630 688 cc engine, can hold 2.1 quarts of oil, while the HRS series mower's GCV160 163 cc engine only holds 1 quart. The Briggs & Stratton Professional Series engines, which have up to 724 ccs of displacement, hold a liter of oil. Be sure to check your owner's manual for specific capacity measurements. In some case, the owner's manual will refer you to the engine operating manual.
Oil Maintenance
Regardless of what engine size or lawn mower model you have, your maintenance schedule will require you to change the oil at specific intervals. Typical manuals suggest changing the oil a few hours after the initial operation, every 25 to 50 hours, and at the end of every season. Check your oil levels and condition prior to any start and every eight to 10 hours.
Oil Change
To change your oil, first run your mower for a few minutes, turn it off, and then let it cool down. This allows your oil to spread throughout the engine and bring any sediment back into the oil reservoir. Locate the drain port, and place an approved oil container under it. Open the fill port cap and the drain port, and let the oil flow into the container. When it's done draining, close the port and refill according to your mower's oil capacity. Under-filling your mower will reduce its lubrication and can cause grinding among the metal parts.
Oil Type
You can't put just any engine oil into your mower. Be aware of the oil viscosity ratings and the temperatures that you will operate your mower. Viscosity indicates how quickly the oil will heat and spread to the engine. The lower the viscosity, the thinner the oil. Conversely, thicker oil won't burn up as quick in warmer temperatures.
Synthetic oil with a 10W30 rating is acceptable for all temperatures. Colder operating temperatures require lower viscosity oil, such as 5W30, while mowing in only warm temperatures should make use of SAE30 weight oil.