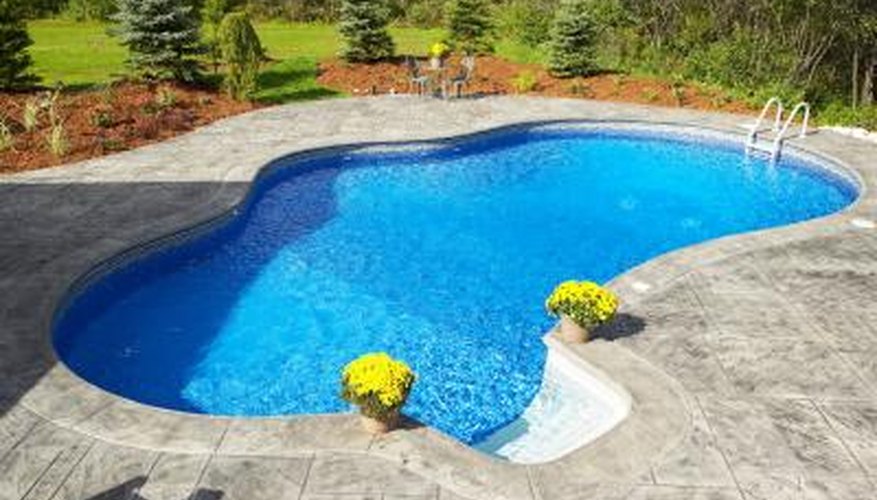 Having a pool can be expensive, not only for operating the pool but to keep it well maintained. Removing an inground pool can leave you with valuable space in your yard. The project is something that you can do yourself or hire a professional to complete. Knowing how much it costs to remove an inground pool can help you to decide if it's a do-it-yourself project or something you'd rather hire someone else to do.
Partial Removal Costs
Partial removal or demolition of an inground pool means removing the tops of the pool's walls and burying the lower parts where the pool used to be. At the time of publication, partial removal or demolition of a small- to medium-sized inground pool costs between $3,000 or $6,000. This is the average cost if the pool is easily accessible by large industrial equipment. However, the total cost can be as much as $15,000 or more for larger pools or those with difficult access, lots of decking materials, plumbing, fencing, shrubs or other structures, according to CostHelper.com.
Full Removal Costs
At the time of publication, full removal, which involves pulling out everything from the pool area before the site is filled, can cost between $6,000 to as much as $25,000, depending on the company you hire. The cost of fully removing a small, basic, inground pool with good access averages from about $10,000 to as much as $15,000. According to Cost Helper, you might be able to find a demolition company that can fully remove your pool for a total of $10,000, including permits.
Do-It-Yourself Costs
A partial or full inground pool-removal project can be completed on your own as long as you follow local demolition codes and have the required permits. A partial removal, wherein you do most of the prep and cleanup work yourself and hire a contractor to do the rest, can cost you about $4,000, according to Cost Helper. If you do all of the work yourself, you can pay close to nothing at all, especially if you're able to find clean fill dirt for free to fill the space where your inground swimming pool used to be.
Additional Costs
The cost of a pool demolition permit varies depending on local rules. Sometimes, pool demolition permits are free. In other situations, they can cost hundreds of dollars or much more. You can pay in excess of $10,000 should you find that you must have the work done twice because you attempted an inground pool without the proper permits, according to Cost Helper, or if you don't follow local demolition codes. Additional costs may include the repairs that you must make due to damage to your landscaping or other surfaces by large industrial equipment needed for the removal.