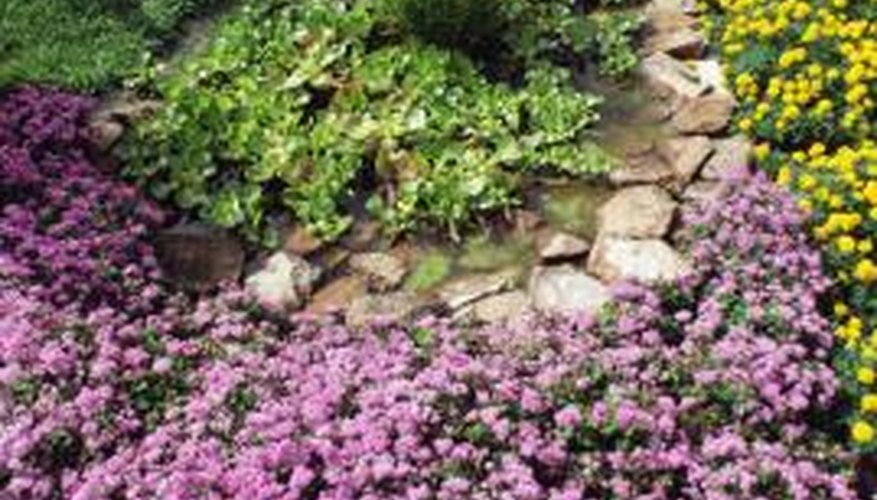 A well-maintained garden delights the eye and acts as a backdrop for outdoor barbecues and children's fun. But depending on the size of the lawn, the hoeing, growing and mowing might prove to be too much work. You can hire landscape workers to perform these and other regular maintenance. But you'll need to pay them a fair price.
Minimums
For basic unskilled work, such as clearing brush or raking leaves, with no estimated time of completion, you can pay the minimum wage or better by the hour. As of July 2009, the federal minimum wage is $7.25 per hour. You must use this rate as your minimum, if your state has no minimum wage laws, such as in Alabama and Tennessee. Otherwise, you must use your state laws. States such as Idaho, Texas and Wisconsin have the same rates as the federal standard. States such as Georgia, Wyoming and Minnesota, have rates that are lower, and states such as California, Florida and Rhode Island have rates that are higher.
Estimates
Reasonable prices for landscape work depend on the homeowner, location, work to be done and the worker. Rates are typically negotiated by the job or square foot, especially if tasks require skill, and can define a specific start and end time. Obtaining estimates from several different landscape services can help trade off price, time and quality. If you have a large job, using a landscape designer can save money in the long run, because he can avoid false starts, material wastes and spur-of-the-moment changes. He can charge anywhere from $500 to $1,000 for an initial design, up to $15,000 if he is highly rated. The prices are according to Cost Owl as of 2011. Nurseries often offer free design services, if they can carry out the landscaping themselves.
Jobs
Creating natural garden landscaping costs about $12 per square foot, according to Cost Owl. This prices a 50-by-50 square foot yard at $25,000. More complex gardens with walls, fencing and water features can cost about $15 to $15 per square foot, bumping a 50-by-50-square-foot effort to a range of $40,000 to $50,000. Adding a pond averages $7,500, while creating a pergola runs $8,000 to $12,000. One way to save money is by performing some of the preparatory work yourself, such as by clearing an excavation area, or buying and bringing in any needed materials.
Differences
Landscaping prices differ according to location, because the costs of labor and materials differ by area. The U.S. Bureau of Labor Statistics illustrates those differences with the hourly rates of landscaping worker. They earned an average of $12.23 per hour for May 2010. The highest paying states were the District of Columbia at a mean $16.79 per hour, and Alaska at $15.78 per hour. The highest paying cities were San Francisco, California, at a mean $16.38 per hour and Bridgeport, Connecticut, at $15.76. Rural areas had costlier highs. In the top paying non-metro area of Nantucket Island, wages were $18.35 per hour, followed by southeast Alaska at a mean $17.44 per hour.