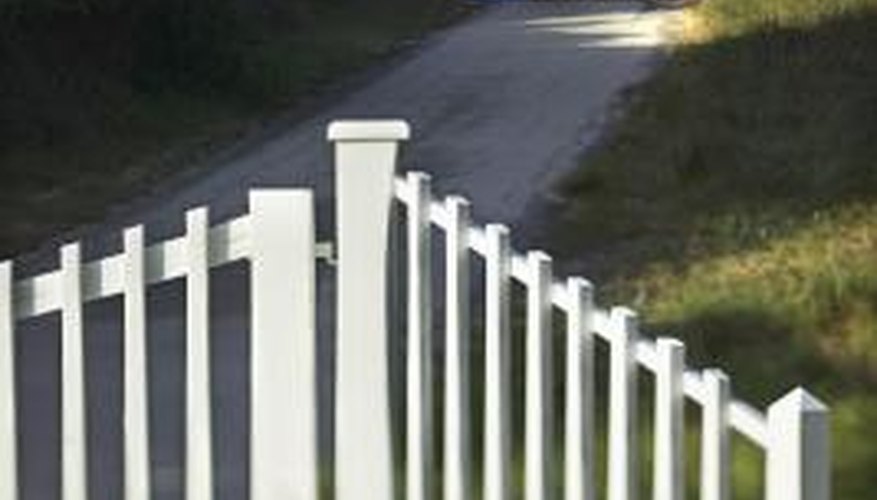 Thinkstock/Comstock/Getty Images
Building a house on a hill gives you a panoramic view of the surrounding area and the setting gives the home a fortress-like elegance. However, building a driveway to connect the local road to the house can be demanding, especially if you live in an area prone to freezing temperatures and heavy snowfall.
Design Options
Although you can build a driveway straight up the hill to the house, it is not aesthetically pleasing, as it creates an angular illusion like a T-square and detracts from the design of the home and the layout of the landscaping. A winding driveway that flows up the slope is attractive; if there is ample space, an S design is a good option. You can also cut into the side of the hill in a winding or angular pattern and build the driveway on a ridge with exposed earth or a retaining wall on the cut side of the drive. Driveways that don't run in a straight line are also easier to maneuver when the surface is icy, wet or snow covered.
Dimensions and Slopes
The straight parts of the driveway should be between 10 and 12 feet wide and at least 14 feet wide on the curves. As the drive ends at the home, build a turnaround at least 12 by 18 feet to accommodate delivery truck manipulation. The turnaround can also be used for guest parking or to park all-terrain vehicles or riding lawn mowers. Before you start driveway construction, make sure the plans don't include rises of more than 15 feet for every 100 feet of driveway to avoid hard-to-navigate slopes.
Hard Surface Driveways
Driveways made from poured materials such as concrete or asphalt give the site a finished, manicured appearance. However, hard surfaces covered with ice or snow are difficult for vehicles to climb and repeated applications of snow-melting salt will deteriorate the finish. To give the drive better tread, mix pebbles into the surface. You can also install a hydronic snow-melting system under the surface that melts snow by circulating water and glycol antifreeze through submerged coils. Electric snow melters are also effective but are not energy efficient.
Gravel Drives
Gravel is a cost-effective driveway material that is easy to travel during all weather conditions. If you choose this option, build a barrier in between the driveway and the lawn to prevent gravel from spreading to the grass and impeding mowing. To keep the gravel more stable, have a professional grader use a rolling machine to occasionally pack the gravel into the soil.