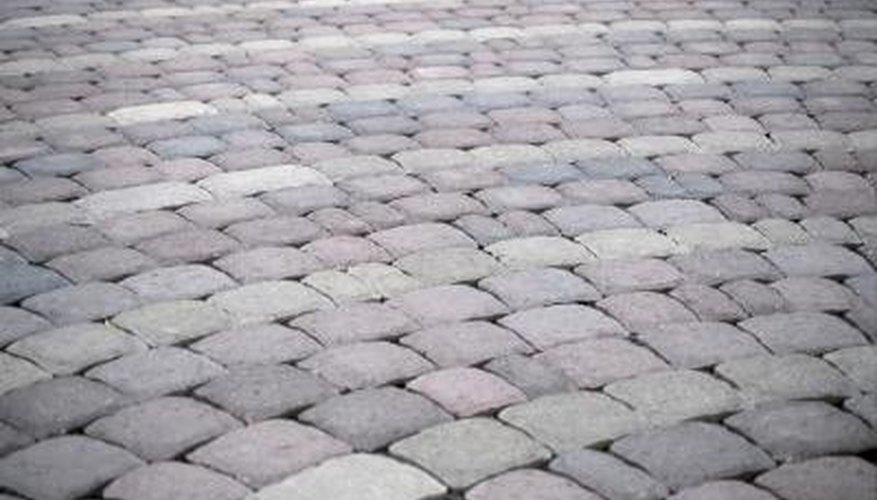 Paver stones are an inexpensive way to create feature areas or focal points in your backyard. The stones come in a range of colors, styles and shapes making these an ideal choice for most properties. While you can install paver stones yourself, if your aspirations of the project exceed your skill level, you can work with a contractor. Look to the existing landscape to help you choose a color and style scheme.
Patio
Turn a dusty zone of your backyard into an entertaining hot spot. Use paver stones to design a patio area for dining or lounging. Paver patios can be laid in a variety of patterns such as herringbone, basket weave and side-by-side brick style installation, amongst many others. Choose a style depending on personal preference and the type of pavers. Before you begin, level the dirt area and clean up any remaining debris. Bring home samples of the stones to do a mock-up of your pattern before you make a full commitment.
Path
Incorporate a paver path to bridge two areas of your yard or to cover up unsightly dirt areas pets and kids have eroded. Whether you choose to design a straight and narrow path or a meandering path will largely depend on the space available. Mix and match stones for a checkerboard pattern, in two different tones. Or, use the same pavers used for the backyard path to line a garden in the front of your property to create a unified look.
Driveway
Create additional parking with a backyard driveway area. Use paver stones to lay the driveway and cover up an unused dirt patch. One idea is to create a circular medallion area at the top of the driveway. Line the driveway with paver stones in a different color for a variegated look. For instance, choose a pale dove grey paver for the main portion of the driveway and line it with charcoal pavers. Separate the driveway from the rest of the yard with a decorative retaining wall.
Fire Pit
Another idea is to turn the barren dirt stretch into a paver fire pit. Check local bylaws to determine appropriate spacing between structures for the best location. Use pavers to create a visually appealing design as the fire pit will become an instant focal point. Make the area surrounding the fire pit wide enough to accomodate seating. Or, create a few benches as part of the paver design. Top paver bases with a slab of stone for the seat of the benches.