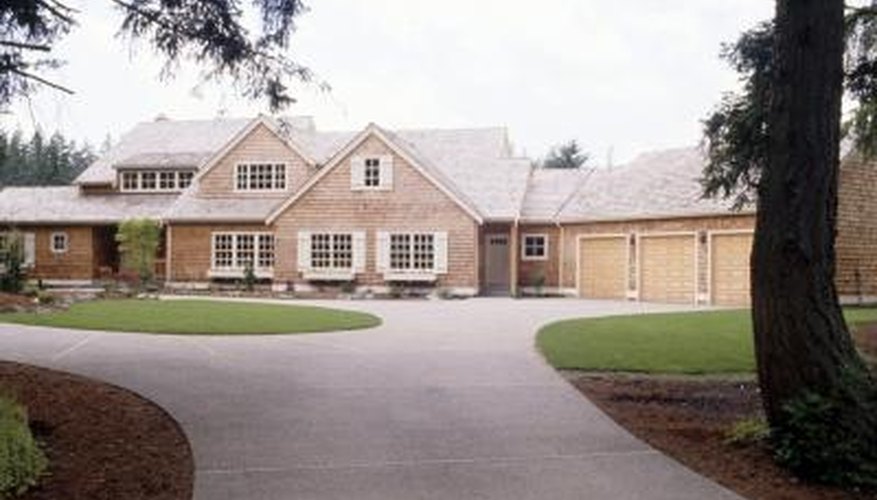 Ablestock.com/AbleStock.com/Getty Images
Pits on a new concrete driveway are a clear indication that the surface is in need of repair. While minor cracks and pits can be expected with normal wear and tear, excessive pitting on new concrete is typically the result of poor installation choices, like using low-quality concrete, or pouring the driveway just before temperatures drop below freezing. Once the pits are repaired, assess the surface regularly for signs of structural problems and take the necessary measures to prevent pits from recurring.
Low Quality Concrete
Concrete is composed of cement, aggregate and just enough water to make it thick but pourable. The ratio of water to cement is the key factor in producing strong, durable concrete. Too much water limits the strength of the concrete. Too little water causes concrete to dry out quickly, becoming brittle and susceptible to pitting. It also reduces the ability of cement to react to hydration, which decreases the longevity of the slab.
Weather
The best time to pour a concrete driveway is early spring or summer, when dry, warm weather is expected for at least seven days while the concrete cures. Freezing temperatures wreak havoc on new concrete. The ground expands and contracts as it freezes and thaws, producing excessive pressure for a slab still in the process of hardening. This can cause the top layer of cement to break away, leaving unsightly pits exposed. In addition, deicing chemicals degrade the surface, increasing the number and severity of pits.
Poor Drainage
A yard with poor drainage threatens both the foundation and surface of the driveway. Standing water seeps into the porous concrete, weakening the concrete and forming pits and fine cracks. Driveways are typically laid on a slight slope so water will flow to the side or bottom of the driveway. Installing underground drain pipes down the lowest side of the driveway will carry moisture away from the surface and prevent water from building up.
Repairs and Maintenance
Repairing a driveway with excessive pits helps stop the damage from spreading and significantly improves the driveway's appearance. Grind down the pitted surface until it is level, and resurface the driveway with a polymeric cementitious overlay. Slow-cure the overlay for a week by laying breathable fabric over the surface. After the driveway cures, seal the resurfaced driveway with a deep penetrating, waterproof sealer.