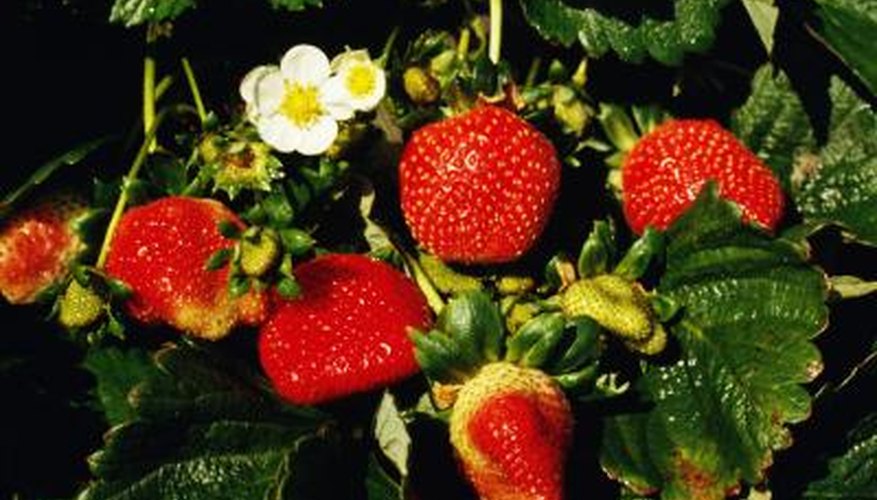 Strawberry plants are an excellent addition to your garden, valued for their sweet, juicy fruit. However, all that fruit could be lost unless you take steps to protect the plants from pests. Pests invade your strawberry patch and make off with the berries, leaving damaged, rotting bits of fruit behind. Placing cages around your strawberry plants is one way to prevent this from happening.
How Strawberry Cages Work
Strawberry cages, or fruit cages, are similar in appearance to the cages used for pets. The cage is constructed to meet the size, shape and height requirements of your plant's needs. Unlike pet cages, a fruit cage is open on the bottom, allowing the cage to be easily slipped over the plant; in some instances, the cage is actually constructed around the strawberry plant itself. A fruit cage is made of open material that allows light, water and air to enter the enclosure, though birds and animals (and sometimes even insects) are not able to enter.
Benefits
Pesticide sprays or dusts are effective and efficient ways to prevent pest infestations of your strawberry plants. The problem is, some of these pesticides contain dangerous or toxic substances that are harmful to humans and pets. Also, if the pests you wish to control are large, such as birds or rodents, you may not want to deal with the result of the pesticides: dead animals in your garden. Strawberry cages offer an effective means of strawberry fruit protection without the dangers or cleanup of using pesticides. You can also reuse the cages year after year for more strawberries or for other garden plants you wish to protect from pests.
Types
You can buy a preconstructed strawberry cage from a garden supply store or build your own. The cage may be based on a wood, steel or aluminum frame. The frame is then given a protective covering such as netting, mesh or wire. The cage may be as low to the ground or as high above the plants as you like. If the cage is low and light, it can be lifted to harvest the berries, while if the cage is taller and has a door, the gardener can walk inside the cage to harvest berries.
Construction
Constructing your own strawberry cage is simple and inexpensive. Decide on the height you wish your cage to be and take measurements of your strawberry patch. Once you have the measurements, construct a frame of timber over your strawberry patch. If adding a door to your cage, be sure to leave a space in the frame to add the door after frame construction. After frame construction, cover the cage with the netting, mesh or wire you wish to use. Be sure to cover the frame tightly and securely, closing any gaps to keep pests out of the cage. Maintain the cage by checking for holes in the covering or worn spots in the frame, repairing them promptly.