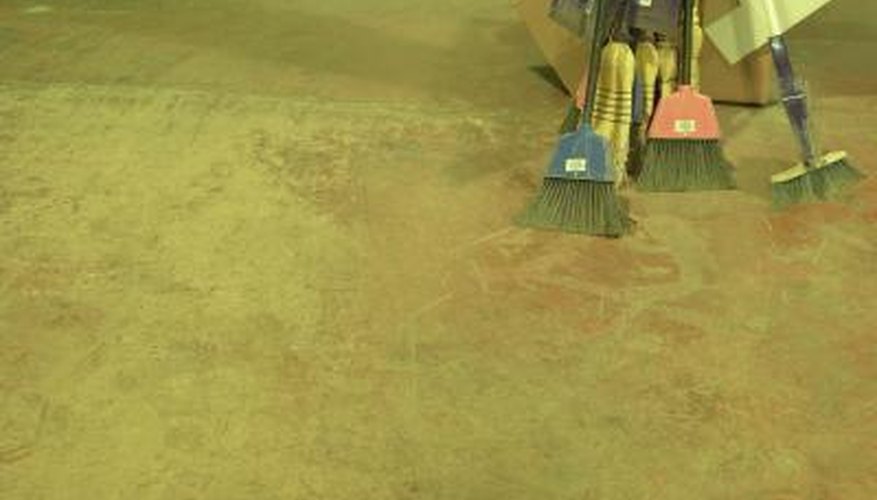 Concrete floors are typically boring gray, creating a decorating challenge. When your funds are limited, and the thought of laying your own carpet or tile is overwhelming, you do have other options. Painting or staining your concrete floor is a task that many do-it-yourselfers can accomplish. With the proper products and a bit of imagination, homeowners can create a decorative finish to enhance the look of a room with concrete flooring.
Painting
Perhaps the simplest solution to finishing a concrete floor is painting. Paint covers imperfections, and you have a wide range of color choices, including custom colors mixed to match your décor. The paint will cover any patching of cracks or holes effectively. Choose a paint that is concrete compatible and mix in additives that create a nonslippery surface. Applying a sealer over the painted surface protects the paint from chipping and flaking. Stenciling or adding a faux finish before sealing adds detail and a decorative touch.
Staining
Concrete staining is an inexpensive option for finishing concrete floors. The process is time-consuming and requires some effort, but itis achievable by the do-it-yourselfer. Staining is a nonreversible process, however, and mistakes are difficult to fix.
Acid stains are an option for concrete floors. The staining process creates a translucent look that has a mottled, variegated look appealing to some homeowners. Any imperfections in the concrete will be highlighted, so this method is not a good choice for floors with color variations or excessive patching.
Acrylic stains offer another option for concrete floors. The stains are durable and mask imperfections in the surface. The finish is semitranslucent and more uniform in color. These stains are easier to work with than acid stains and are available in a wide range of color choices. The acrylic stains are more vibrant than acid stains.
Faux Finishing
Faux finishing creates patterns and designs on a painted or stained concrete surface. The process is achieved using acrylic and polymer stains. Patterns are achieved by ragging or sponging designs onto the surface. Different colors can be blended or misted onto the surface, as well, to achieve the look you desire. Applying a clear concrete sealer gives added protection.
Epoxy Paint
Epoxy paints are often used in garages and in commercial facilities, but they are suitable for residential use as well. The paints come in both solvent-based and water-based varieties. Although the solvent-based paint is stronger, it is more toxic and requires considerable caution when applying. The water-based paint creates a strong, long-lasting surface, has no hazardous fumes, is less expensive and can be applied by the do-it-yourselfer. The paints come in a variety of color choices to coordinate with your décor.