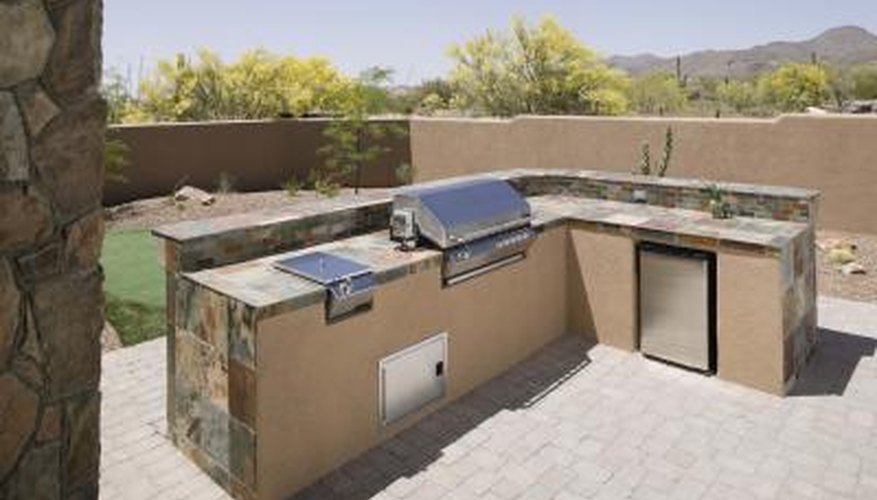 Jupiterimages/Comstock/Getty Images
Kitchens are the activity center of the home, a place that must be both functional and aesthetically pleasing. Adding a kitchen space outdoors is ideal, particularly for families that entertain often. The extra space will make food and drink preparation more efficient and eliminate wasted trips inside. These spaces usually include an island, grill, fireplace and sink, but there are several other options for more elaborate designs. There are two basic framing options: concrete block or steel stud. Both have their positive and negative attributes.
Steel Framing Advantages
Steel framing is among the most durable options on the market. It is less work to install than concrete and requires little or no maintenance once it's installed. A steel frame is able to cover long distances and will incorporate curves and other special design techniques as desired. Steel is excellent for outdoor kitchens, as it won't burn or rust, is resistant to pests and doesn't require being treated with pesticides or preservatives. An additional benefit is its resistance to earthquake damage.
Concrete Block Advantages
Concrete blocks have been used for decades in construction. Concrete block is a durable material that will withstand fire, termites, bacterial growth and weather-related damage. Additionally, it won't rot, peel or flake as other materials do. Concrete blocks will withstand extremely high winds better than most other materials, making them ideal for areas that suffer from hurricanes and tornadoes. The blocks generally measure 8 inches by 8 inches by 16 inches but are available in different sizes, depending on the job. Once the blocks are in place, a sometimes time-consuming process that usually takes a bit of practice to get right, they can be covered with stucco for a more appealing look.
Steel Framing Disadvantages
Although widely available and fairly easy to use, steel framing materials are among the most expensive on the market. The material by itself does not constitute a structure, and must be finished with drywall, stone or other covering. Even though the building process is fairly easy, it usually requires special tools to complete properly. Additionally, if it's not braced correctly, the structure will not be stable enough to support an outdoor kitchen.
Concrete Block Disadvantages
Concrete is normally a diverse material that has the ability to be stamped, stenciled or painted to a preferred color and texture. This same ability is not present in cement blocks, which must be covered in stucco to add aesthetic appeal. Poured concrete also provides shaping and styling options not available with blocks. All concrete structures, even blocks, will face cracking over time. These cracks are generally not structurally important, but are often difficult and costly to repair.