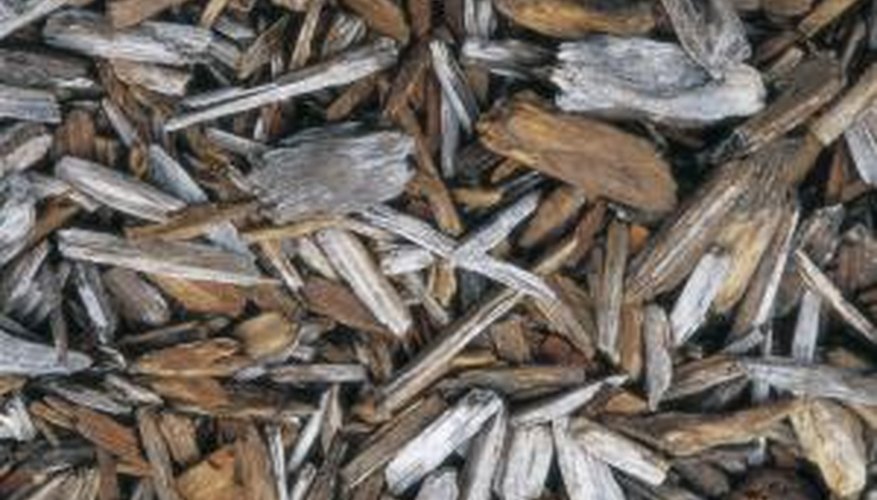 Mulch around shrubs and foundations gives a home a uniform, well-groomed appearance. It creates a protective physical barrier around lawn shrubs. It also helps to conserve water, reduce maintenance and keep plants healthy. Mulch keeps soils warmer in the winter and cooler in the summer. There are many mulches to choose from but, for best effect with least effort, a few guidelines should be followed.
Select a Mulch to Suit Your House and Property
Mulch looks best when it matches your home and landscape. Pine needles, wood bark and decomposed leaves look natural in a woodland setting and around the foundations of a rustic house. Pebbles, stones and rocks set off a Japanese theme garden or entranceway. Decide the mood you want to create. Bright red bark will clash with a yellow-sided house, making it stand out, whereas the silver-grey of composted wood chips will blend and soften it.
Use What is Readily Available
The recommended depth for mulch is 2 to 4 inches, and as many mulches need replacing often, it is a good idea to find material that is readily available. Needles from backyard pine trees make an easily accessible and free mulch. Tree service companies and local businesses, such as chocolate factories and mushroom farms, can be sourced for large quantities of mulch at reasonable prices. One winery even uses old corks in its gardens for ambiance.
Organic Versus Inorganic Mulches
Aged organic mulches such as aged bark nuggets, mushroom compost, wood chips and cocoa hulls decompose with time, releasing small amounts of nutrients and organic matter to the soil. Fresh organic mulches, however, can actually compete with plants for nutrients, making it necessary to fertilize more often. Inorganic mulches such as pea gravel and lava rock rarely need to be replaced but are cumbersome and must be contained so as to not interfere with mowers, and positioned so as to not overheat shrubs.
Place the Mulch with Care
Mulch placed around shrubs will help prevent mower and grass trimmer damage but should be spread far enough around the plants to include the drip line. Place no mulch directly at the base of plants to avoid disease, pests and water problems. A row of bricks or large stones placed between the foundation and any organic mulch will help discourage termites, rodents and other pests from invading your indoor space.