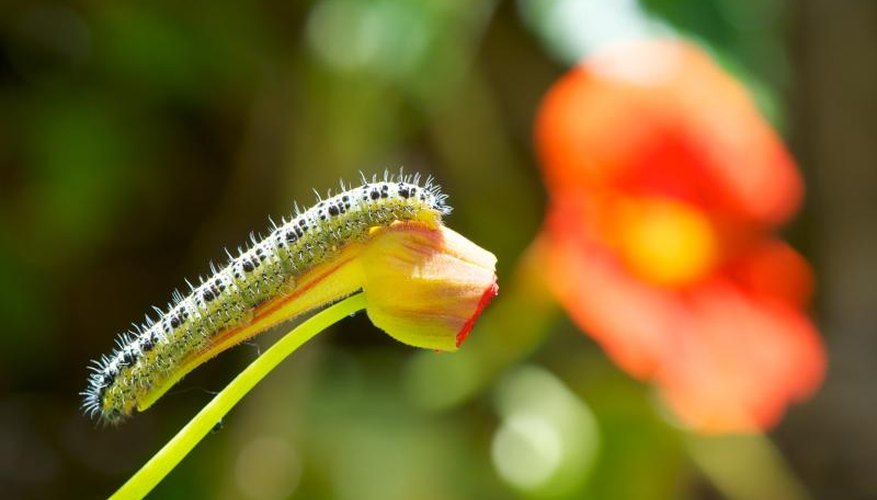 The caterpillars of nocturnal moths from the Noctuidae family, cutworms hide underground during the day and come out at night to feed on plant stems, leaves, shoots and buds. Cutworms earned their name because their feeding activity often completely severs plants near the soil line. The plants that aren't severed typically wilt and fall. Cutworms feed on many different types of plants, and large populations can completely devastate your vegetable garden. Fortunately, you can take several nonchemical and chemical approaches to controlling cutworms.
Exclude Them
Once the cutworms pull their guillotine act on your plants, the damage is irreversible. Prevent the worms from ever reaching your plants by creating a physical barrier. This is particularly important for vulnerable seedlings and transplants. Create a simple collar using cardboard, aluminum foil, tin cans or leftover toilet paper or paper towel tubes. Place collars around small plants, inserting the material at least 1 inch below the soil's surface and allowing it to stick up 2 or 3 inches above ground. Leave the collars in place throughout the growing season or until a plant gets too big for the barrier. Once a plant outgrows the barrier, it should be large enough and mature enough to withstand cutworm feeding activity.
Remove Them
Take a flashlight with you out to your garden at night. Check plant leaves and hand-pick any larvae you find. Drop the pests into a bucket of soapy water. If you're squeamish, just pinch off the infested leaves and discard it in a covered trash can. Don't put infested foliage on your compost heap or the larvae might find their way back to your plants. Adult moths are nocturnal, gray, black or brown. The adults feed on nectar and don't directly damage plants. The females lay several hundred eggs each, usually on low-growing plants. Reduce adult moth populations and prevent future cutworm infestations by placing electronic bug zappers near your garden or infested ornamental plants.
Exclude and Expose Them
Cutworms primarily act as pests in spring. Removing weeds and old plants at the end of the growing season reduces the number of feeding sources and egg-laying sites in your yard. Leaving a 3- to 4-foot buffer of dry soil around the perimeter of your garden might make the space unappealing to cutworms.
Tilling your garden soil exposes overwintering cutworm larvae to the elements and hungry birds. It also gets rid of remaining plant debris, which discourages the females from laying eggs in your garden. Just after harvest ends, till the soil to a depth of 6 to 8 inches. Wait two to three weeks and then till again to a depth of 2 inches. Wait until spring and then cultivate the soil 2 inches deep about two weeks before you plan to plant.
Treat With Carbaryl
Large gardens and yards might need insecticidal help to control cutworms. Protect your plants during a severe infestation with an application of a carbaryl dust. Carbaryl dusts come in ready-to-use shaker cans. Use the container to lightly cover the tops of leaves and stems with a thin, uniform layer of dust. Repeat treatments every 10 to 14 days for as long as cutworms remain active. For optimal results, dust your plants in the early evening just before the cutworms come out to feed. Carbaryl is highly toxic to bees. Avoid harming the beneficial insects by not dusting any plants in bloom.
Use Bt
Protect your garden plants with insecticides containing Bacillus thuringiensis, a bacterium that naturally occurs in soils. This caterpillar-killing bacterium works by messing with the pest's stomach lining, making it stop eating and die within just a few hours of contact. Although Bt eliminates moth larvae, it won't kill beneficial insects or have any affect on people, pets or plants. One product recommends mixing 3 to 4 teaspoons of Bt product for every 1 gallon of water. Use a small garden sprayer to thoroughly cover the foliage, including the tops and undersides of leaves. The pests must eat the insecticide for it to work, so complete coverage is crucial. Repeat treatments every five to seven days while the cutworms are still active.
Stay Safe
Always read and carefully follow the application instructions and safety precautions on your product's label. Even nontoxic insecticides can cause skin and eye irritation on contact. Reduce your risk of exposure by wearing protective eyewear and clothing, including latex gloves, long sleeves and a face mask. Spray or dust plants on calm days when no rain is expected for at least the following 24 hours. Keep children and pets out of the area while you're working with chemicals and follow the product's recommendations for when it's safe for them to enter the area.