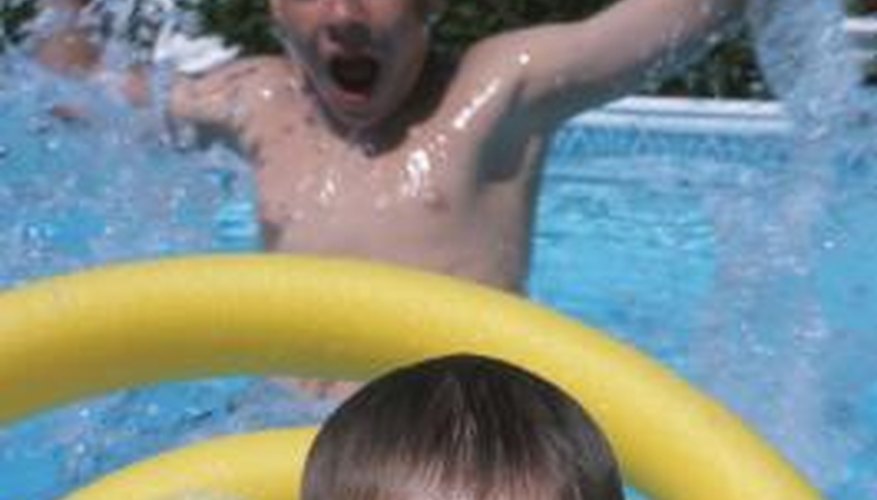 The Magna Sweep pool cleaning system has nozzles embedded in the swimming pool floor that direct heavy debris to an area. Turning all the spray nozzles in one zone in the same direction pushes leaves or dirt on the bottom of the pool in that direction with a sweeping motion as the debris passes each nozzle. The nozzles are adjustable for time and speed of operation. Longer operation times allow more water to flow into the impeller and out of the nozzle for more strength and better cleaning.
Adjusting Speed and Time
Step 1
Turn the pump to the "Off" position.
Step 2
Place the clear lid on the Magna Sweep valve with the groove facing the indentation on the valve body. The groove is above the spray nozzle of the valve.
Step 3
Rotate the lid clockwise for a faster cleaning system or counterclockwise for a slower less powerful cleaning system. Adjust each valve in each zone in the swimming pool to the same area.
Step 4
Turn the pool pump on to view your adjustments. Set a stopwatch and time the valves to determine how long of a cycle they are running. Magna Sweep recommends a cycle of 30 to 60 seconds. Make further adjustments to the speed and timing if necessary.
Step 5
Lift the edge of the band clamp on each valve and pull it straight up and off the valve.
Adjusting Spray Direction
Step 1
Grasp the Quikstop pause control on the top of a valve and pull it straight up in a vertical position. The pause control is the black portion on the top of a valve that is horizontal on top.
Step 2
Push the head of the valve down gently to release its position.
Step 3
Grasp the nozzle and turn it clockwise until it points in the direction desired. Rotate the Quikstop pause control down to its original horizontal position.
Step 4
Repeat these steps to direct the nozzle on each valve within a zone to spray in the same direction.
Things You Will Need
Stopwatch

Permanent marker