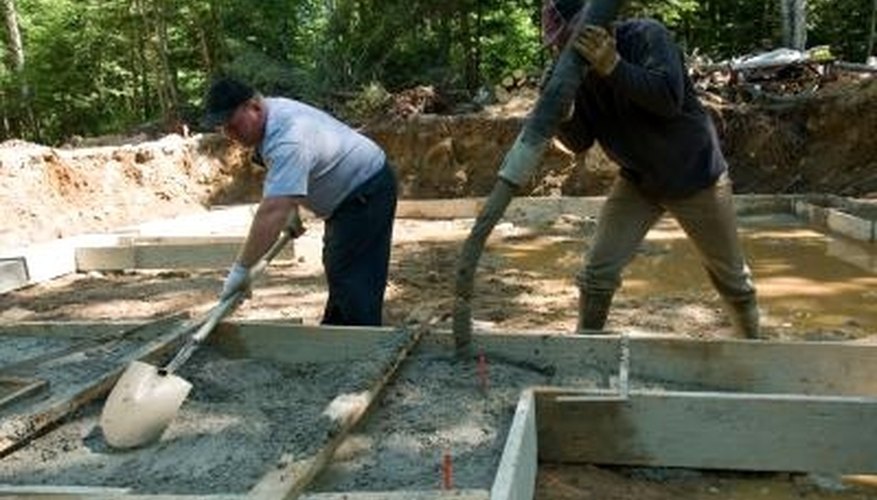 Troweling is one of the last steps to perform when you pour fresh concrete such as for a sidewalk or a patio slab. The troweling process smooths the top of the concrete to an attractive, level appearance, thus eliminating dips and bumps. The troweling process is combined with another process called floating, which works the excess moisture out of the concrete. Troweling is typically performed with small hand tools for most residential projects.
Wait until all of the water has evaporated from the top of the concrete after you perform the initial floating process. This can take one or two hours on humid days but can take much less time on hot, dry days. The concrete must be semi-hard before you begin troweling. Start troweling when you press your finger into the concrete and no imprint remains.
Place the flat edge of a magnesium float on top of the concrete and move it in wide arcs across the entire surface. Use firm pressure and focus on any raised rocks or imperfections. This brings water to the surface of the concrete, thus creating a slurry. This slurry is necessary before you begin the troweling process.
Place a steel trowel at one side of the concrete with the bottom flat on the surface. Angle the front edge of the trowel up by 1 or 2 degrees, just enough so that it will not create a gouge in the concrete. Move the trowel in a single line as far as you can reach.
Pick up the trowel and place it above the first line and repeat the process. Continue troweling the concrete, moving as needed until the entire surface is smooth.
Allow the concrete to dry for approximately 10 minutes, then repeat the troweling process. Trowel the concrete up to three times for the smoothest finish. Each time you trowel, raise the front end of the trowel 1 or 2 degrees higher than before.