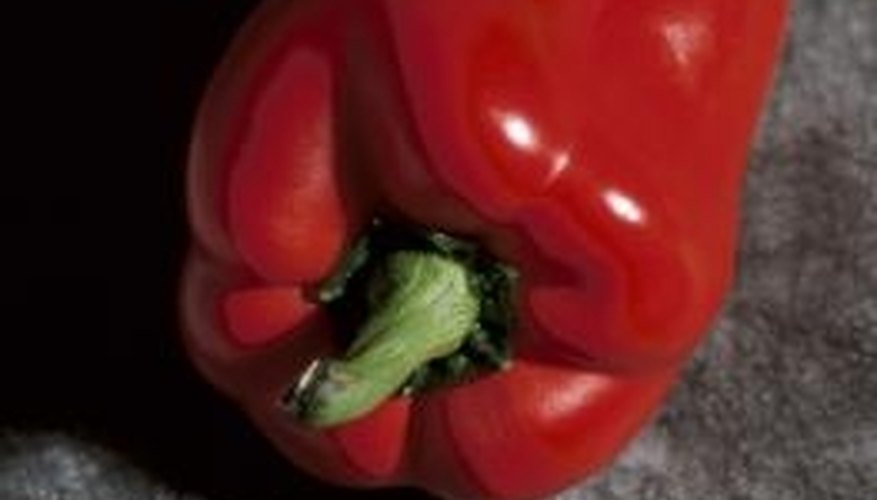 Red bell peppers are a sweet variety of pepper native to South America, but they can be grown successfully in all climate zones. Red bell peppers are used in many types of cuisine and are delicious either cooked or raw. The vegetable is a good source of vitamin C and have more vitamin A than their green counterparts. Red bell peppers will ripen from green to a deep red. You can grow them in the garden or in pots.
Select red pepper starter plants that are short, thick and have three to five sets of leaves. Avoid plants with yellow or wilted leaves or plants that have already begun to flower or fruit. Check the roots of the plant. Do not purchase a plant that appears to be root bound, meaning the roots are tightly grown together and little to no soil is visible.
Amend your soil by adding 3 inches of compost to the garden bed or pot. Mix the compost thoroughly with your soil using a spade shovel. The added compost will increase the nutrients in your soil and provide good drainage for your pepper plants. Mix in an all-purpose slow-release fertilizer according to the directions on the package.
Plant your bell pepper plants in the ground or in a pot outdoors once any threat of frost has passed and the average daytime temperature is between 70 to 80 degrees Fahrenheit. Bell peppers cannot tolerate cold weather and growing slows if nighttime temperatures drop below 55 degrees Fahrenheit.
Space plants at least 18 inches apart, or as directed on the information card for the variety of bell pepper you purchased. Dig a hole a little larger than the root ball of your plant. Place the plant in the hole and gentle fill the hole with soil, compacting it down as you fill. Water each plant thoroughly.
Cover the plant beds with a layer of mulch to reduce water evaporation and prevent weeds from growing.
Water your pepper plants frequently because dry soil may reduce their productivity. Always water your plants at the soil and never from overhead. Water left on leaves can cause rot and disease.
Harvest peppers once they have ripened from green to red. Cut the peppers with hand pruners at the stem close to the branch.