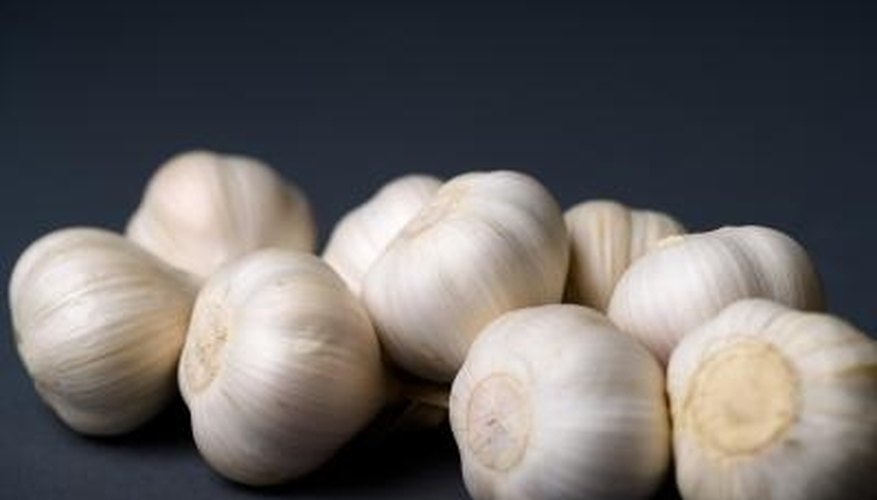 Those soft-bodied, pear-shaped insects feeding on your plants and trees and potentially ruining your vegetable garden are aphids and can appear in brown, red, green, yellow or black shades depending on the species. Large infestations of aphids can stunt the growth of plants as well as cause curling, yellowing and distortion of the leaves. They can also spread viruses from plant to plant. Control aphids on your property the natural way by utilizing homemade bug spray and other natural methods of control.
Spray aphids with water early in the day. This step removes the aphids as well as the liquid they excrete, and it is unlikely they will be able to return to the plant. Spraying early in the day allows the plants to dry in the sun without risking fungal infection.
Make a mixture that is deadly to aphids but will not harm your plants or the soil. Mix 2 tsp. each of dish soap, liquid garlic and cayenne pepper powder or crushed red pepper in a quart of warm water. Pour the mixture into a spray bottle.
Spray the mixture on all affected plants, concentrating on the tops and bottoms of leaves. Also spray the mixture in any crevices the plant might have, which aphids use to hide in.
Plant flowers attractive to aphid predators. For example, ladybugs enjoy dandelions, yarrow, fennel, dill, mint and tansy plants. Ladybugs also need a water source, so purchase a bird bath or make sure the one you own is always full. If necessary, purchase a box of ladybugs at your local nursery and release them around aphid-affected areas.
Plant flowers that are attractive to aphids to keep them away from other flowers and vegetables. Flower types include mums, asters, dahlias, hollyhocks and larkspur.
Maintain garlic and onion plants near infested areas, both of which are repulsive to aphids.