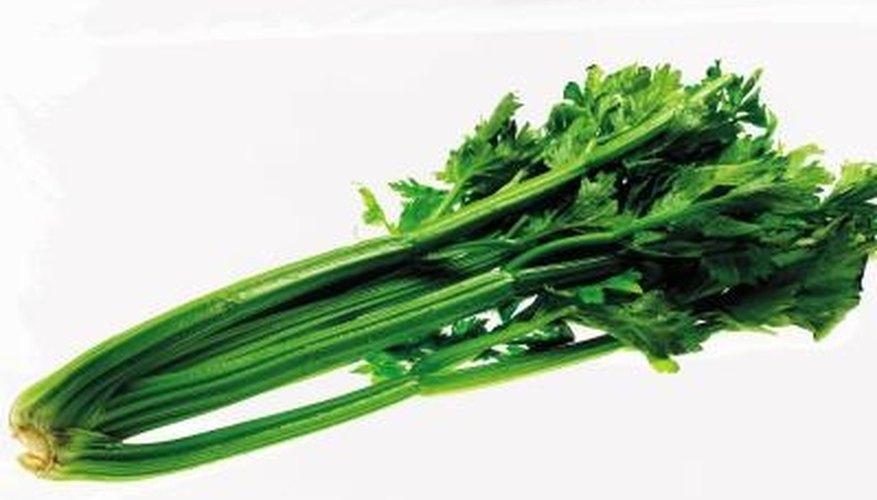 Celery growing out in a home garden needs a minimum of six hours of sun and cool soil conditions. If you lack garden space, grow celery in a container to cultivate a delicious harvest about four months after sowing seeds. Fill containers with rich planting medium to provide the growing celery plants with plenty of nutrients as they mature in the pots. Your biggest challenge will be to provide enough water for the thirsty celery plants.
Fill the planting container to the top with the potting soil.
Sow the celery seeds along the top of the soil, planting two seeds every 8 to 10 inches. If you have one 10-inch container, plant only two seeds in the center of the container. Keep the seeds about 6 inches away from the sides of a container for larger containers with more seeds. Cover the seeds with 1/4 inch of soil.
Water the soil lightly to moisten it and place the container in a warm location with sun. If the temperature is above 55 degrees Fahrenheit, place the container outside in the sun. If the temperature is below 55, start the seeds indoors and move the container outdoors after the temperatures moderate.
Check the soil in the container daily and water it whenever necessary to keep it evenly moist.
Thin the celery plants when they reach about 4 inches in height. Remove the weaker of the two seedlings you planted together to leave the strongest celery seedling.
Sprinkle a granular fertilizer carefully around the edges of the container about six to eight weeks after planting the seeds. Consult the fertilizer container for the correct amount according to the container size. Work the fertilizer in gently with the hand rake and water the soil thoroughly.
Roll the newspaper up into a large cylinder and wrap it loosely around each celery plant about two weeks before you expect to harvest the celery. Secure the newspaper with lengths of twine. Blanching celery makes the stalks turn green and taste better.
Harvest celery when the diameter of the head base is about 3 inches. Cut off the head just below the soil level with a sharp knife.