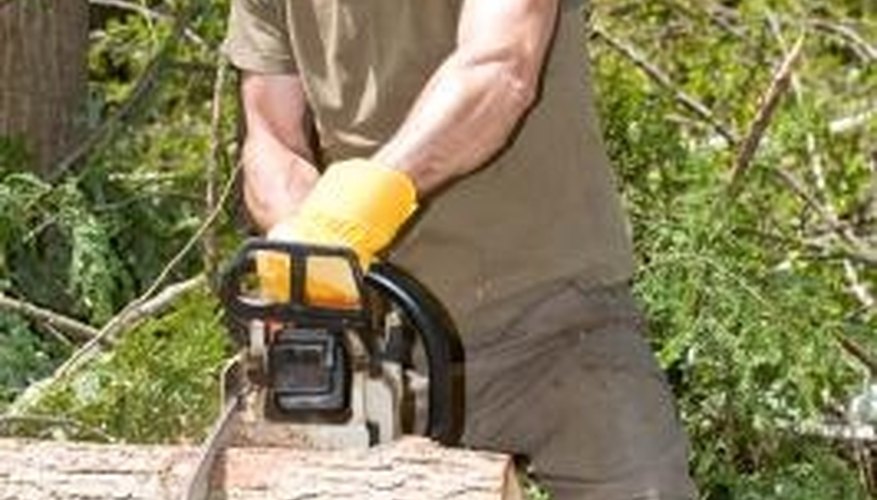 Usually, all you need to split a log into firewood is a good axe and some elbow grease. There are times, however, when swinging an axe just won't do the job -- these times usually come up when the log is too large to split with hand tools, or when the wood is of some particularly sturdy variety, like elm. In these cases, the tool of choice to split a log down to manageable chunks is the venerable chainsaw.
Place the log you wish to cut upright on a flat, even surface -- preferably on top of a second, larger log so that if you accidentally cut too far, you're just cutting into more wood. Do not put the log on its side, as doing so may cause it to roll away as you cut.
Place the chainsaw on the ground and steady it with one hand, then use the other hand to start the motor. You may also use your foot to steady the chainsaw by standing on the handle behind the blade.
Bring the blade to just above the top of the log where you want the cut to be made.
Pull the trigger to start the cutting blade, then lower the blade into the log.
Pull the blade down smoothly through the wood. Do not try to force the blade, as this can cause the chain to gum up and the saw to kick back violently against you.
Continue cutting until you've gotten all the way through the log.
Release the trigger and pull the chainsaw away from the log, then lubricate the chain blade with WD-40. This will help prevent the blade from seizing as you cut.
Repeat these steps until you've finished splitting all your logs.