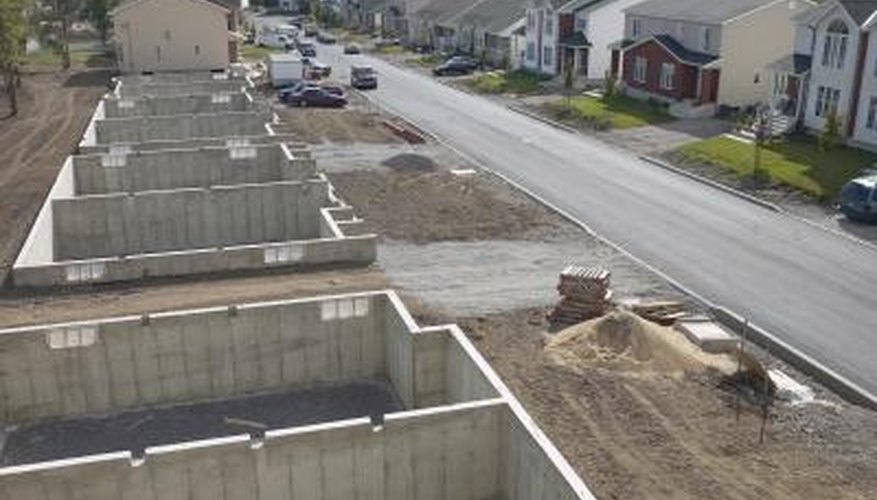 Hemera Technologies/AbleStock.com/Getty Images
A house's foundation is a vital part of construction, securing and anchoring the building to the ground. However, the exposed cement rim on the exterior of the home may not be attractive to the owner, instead, creating an unfinished appearance on an otherwise flawless building and landscape. If you want to improve your home's appearance by hiding its foundation, there are several techniques from which to choose.
Paint the foundation walls to blend in with your house's color scheme and to hide the gray cement color. On newly built homes, apply the paint only after the concrete foundation has cured for at least a month. Use exterior concrete paint for the best coverage. Make designs or murals along the foundation walls to show off a creative personality.
Install stone or slate over the foundation to hide the original surface materials. Use real stone by installing a layer of mortar on the wall and pressing the stones into place in a pattern of your choosing. Use faux stone, which is more lightweight, for a lower-cost alternative. Apply construction adhesive to the back of the faux stone and press onto the foundation's surface.
Hide your house's foundation by using landscaping around the base of the building. Use a short fence that starts in the ground and extends slightly higher than the foundation walls. Use plants, such as evergreen bushes like holly or juniper, to hide the foundation at all times of year. Place a low trellis fence along the foundation and plant vines to combine the two methods.
Build a low deck or wrap-around porch on some of the walls. A deck or porch hides the foundation and creates an attractive feature you can use for outdoor dining or relaxing.
Hide the foundation with durable tiles. Select ceramic tiles for a more traditional look or use colorful glass tiles for a modern vibe on your home's exterior. Use tiles of varying colors to create a pattern or turn the foundation into a work of art by making a mosaic picture.
Things You Will Need
Paint

Real or faux stone or slate

Mortar

Construction adhesive

Fence

Bushes

Tile