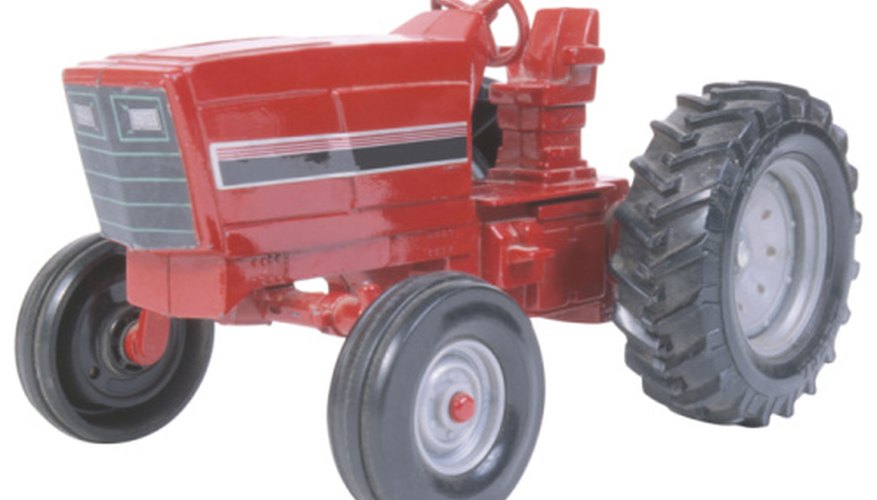 The John Deere GX 345 is a residential tractor that many homeowners rely upon for the management of their lawn and property. As reliable as a John Deere tractor can be, there may still be times when it malfunctions. Rather than running to a dealer or mechanic, take the time to troubleshoot the problem yourself. You may be able to save yourself some money that would otherwise be paid for service and simple repairs that you can do yourself. Refer to your John Deere GX 345 user manual for specifics on the location of parts.
Check the battery in your John Deere GX 345 to make sure it is still charged. Look to see if the battery terminals are corroded. If they are, and the battery doesn't start the tractor, you may need to replace the battery.
Make sure there is enough transmission oil and gasoline in the tractor for it to run properly. Insert a dipstick into the transmission oil container and pull it out. Look at the level where the dipstick is covered with oil. If it is below the low mark on the dipstick, you'll need to add transmission oil. Wipe off the dipstick with a clean rag. Insert it into the gas tank to ensure you aren't low on gas. Replenish the transmission oil and gas if needed. Refer to your user manual for instructions on the type of oil and gasoline to use.
Test-drive your John Deere GX 345 tractor to see if it vibrates. If so, the drive belts may need to be replaced, or the blade may be out of balance and need to be adjusted. In this case, you should take it in for repair by a certified John Deere mechanic.
Put the gearshift in neutral. The tractor should stay in place without moving forward or backward. If not, you may need to have the linkage repaired.
Try cutting the grass. If the tractor doesn't cut properly, you should check the debris chute and mower deck. Turn off the John Deere GX 345 and put the brake on so it is securely parked. Look inside the debris chute. If the chute is clogged, the tractor won't run properly. Also check under the mower deck to see if grass or debris is obstructing the blade. If so, the tractor won't cut the grass properly.
Check the air pressure in the tires. Refer to your user manual for the proper tire pressure. Use a pressure gauge inserted in the tire tube to make sure the pressure is acceptable. If it isn't, the tractor might be sitting too low and might scalp the grass or get clogged with debris.