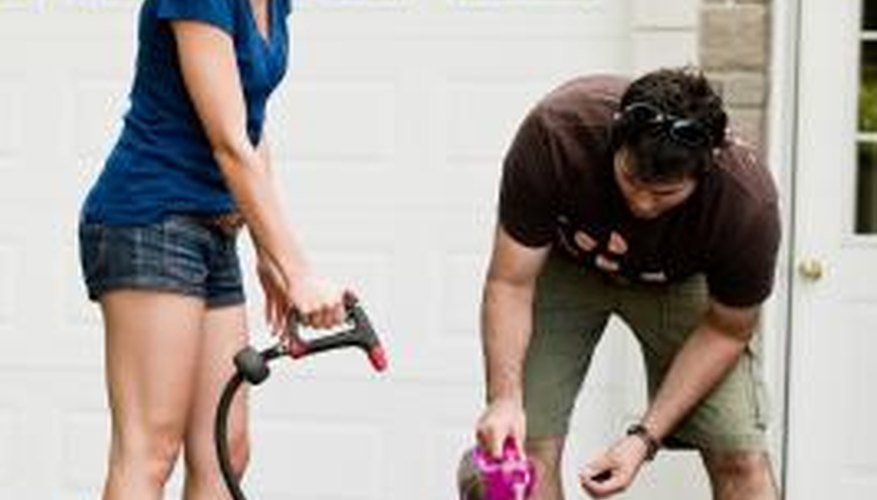 Paints, stains and textured coatings won't adhere properly to a smooth concrete floor. Therefore, contractors roughen up concrete by acid etching. Preparation of the concrete is essential before etching with phosphoric acid. Working with acid is dangerous and can cause injury. If acid is strong enough to etch concrete, it certainly can harm the human body. Wear protecting clothing, including rubber gloves, rubber boots and goggles or a face shield.
Step 1
Sweep dirt, dust and debris from the surface of the concrete using a push broom. Clean oil, grease and buildup from the concrete using a power washer, if available. Fill the power washer's tank with a concentrated degreaser, available at a builder's supply or home improvement center. Dilute the degreaser with water according to the package instructions. Alternatively, you can use a garden hose, scrub brush and degreaser to clean the concrete.
Step 2
Moisten the surface of the concrete before etching. The concrete must be wet but without puddling or areas of standing water.
Step 3
Don protective gear including hands and face protection. Mix the etching solution in a plastic bucket or container. Although 1 part phosphoric acid usually is added to 1 part water, follow package instructions to mix the precise ratio of acid to water. Never pour water into acid; always add acid to water.
Step 4
Pour the etching solution into a plastic garden watering container. Starting in one corner, sprinkle the acid solution uniformly over the surface. Work in small sections so the concrete doesn't dry out as you etch.
Step 5
Scrub the etching solution with a push broom or stiff-bristled brush to work it evenly into the surface of the concrete. Bubbling indicates the etching solution is working, according to the website Seal-Krete.
Step 6
Allow the phosphoric acid to remain on the concrete until the bubbling stops, which usually is less than 10 minutes.
Step 7
Rinse the concrete thoroughly and generously with water. Allow the surface to dry completely. The surface should now have the texture of medium-grit sandpaper.